This WiFi router provides fastest data speeds possible
Routers—those boring but necessary pieces of hardware for setting up your own home or office wireless hotspot—are smartening up, becoming easier to set up and operate. Which is good news to most of us dummies who have hitherto been challenged by having to deal with router passwords, network passwords, MAC numbers, WPA or WiFi Protected Access.... before the home WiFi network was up and working.
Linksys is arguably one of the world's best known router brands—a company with DNA traceable to networking leader Cisco. Their latest India launch is the Linksys WRT 1900 ACS, a sturdy router with 4 detachable antennas that covers the latest technologies when it comes to WiFi and connectivity. This means it can be used with a lot more flexibility that entry level routers that may cost much less. 
But most important of all, it belongs to the new generation of smart router that uses your smartphone ( with an app downloaded) to set it up without hassle and then to control the Wifi network, regulate access and map the coverage. 
Last month in this space, I had shared my experience with another smart router from Xiaomi. Let me just add that this one is just as hassle free when it comes to startup and use. Plus it works with all current WiFi bands including the fastest—802.11 ac-- which is 4 times faster ( in theory at least!) than the previous generation 802.1 n standard. The WRT 1900 It covers both 2.4 GHz and 5 GHz bands which makes it that much easier for your phones, laptop, desktop, tablet to latch on.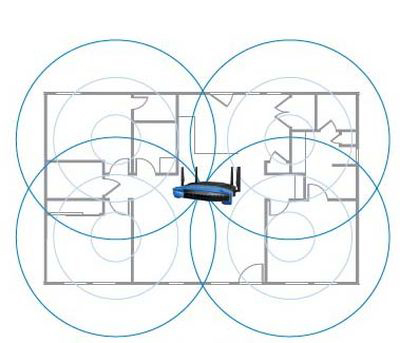 When it comes to connectivity, the router has 2 USB ports—one is the latest USB 3.0 port while the other, the USB 2.0 doubles a port to connect an external SATA-type hard disk, if you so chose. This is the first time I have seen a router able to latch on directly to a storage device. This is in addition to the four ethernet gigabit ports. 
In my experience, it is only offices which need multiple ethernet ports. At home we tend to connect wirelessly, rather than with an ethernet cable, to our phones and other computing devices.
In my limited trial, I found that with 4 antennas, the router could penetrate the farthest corners of my apartment, where a two antenna router, struggled to do so.
That might perhaps reconcile me to the asking price of Rs 20,999 (some e-comm sites have it for less), because it will save me having to invest in an additional booster to extend its range. If you have a lot of people in your home using Wifi and if you have 3-4 bedrooms and an apartment of 2000 sq ft or more, the cost will be justified.