New technology promises, sharper, brighter connected TVs
Gone are the days when a 20-inch colour television set was the peak of perfection—TV wise—and the summit of our ambition. Today, customers are saying, 'bigger is better'—and manufacturers are happy to oblige.
Add another caveat: TVs need to get smart: It makes sense to make the sets Internet-ready, when so much video and movie fare is to be had online from YouTube, Netflix, Hotstar, Hungama, Yupp TV, Eros etc.
LCD or liquid crystal TVs, lit from a back panel of light emitting diodes or LEDs, gave way slowly, to Organic LED TVs or OLEDS, where millions of individual LED dots were self-lit. LG led this change last year, followed by Sony and Panasonic. TVs dramatically shrunk in weight and thickness as screens were as thin as 4-6 mm. At about the same time, High Definition or HD became Ultra HD also known as 4K, doubling the screen resolution. TV sets as large as 65 - 80 inches became available and some makers threw in a curved screen, though whether this helps is still a subject of some controversy.
Samsung in India has just launched a family of television sets from 49 inches and going up to 88 inches, fueled by a new display technology called QLED where the Q stands for quantum dots. This works by placing a film of millions of illuminating dots in front of the LED backlit panel. The dots have metal alloy which is said to sharply increase the range of colours displayed, as well as the brightness or luminescence. QLED TV's advanced High Dynamic Range or HDR 2000 functionality enables viewers to see every detail as it was meant to be seen, with no loss or distortion of colour.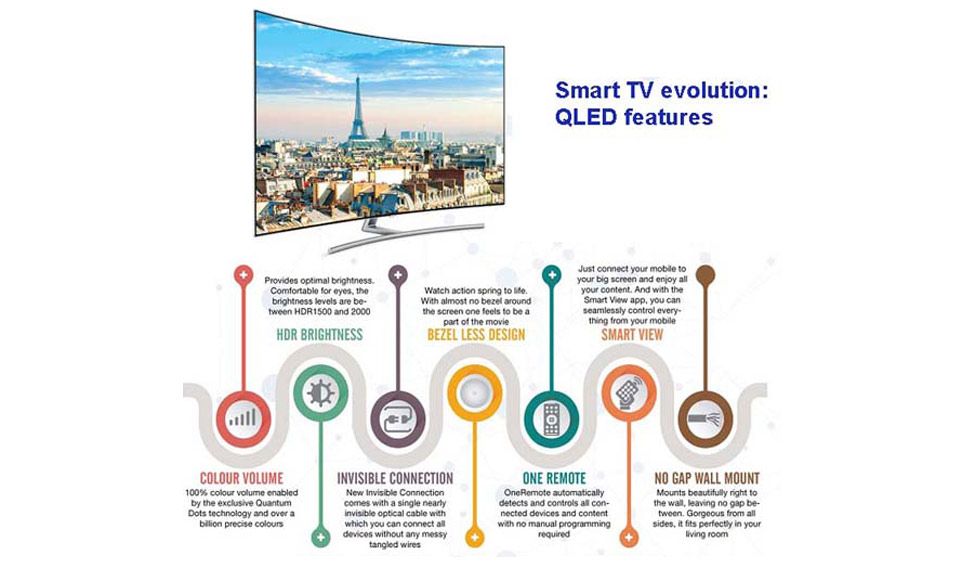 The QLED TVs also add some elements of ergonomics: they reduce the cat's cradle of wires traditionally to be found behind the set (with connections to DVD player, Set Top Box, WiFi router) with a single optical cord system. called Invisible Connection, that is hidden inside the stand.Because QLED TVs can be very thin-n-light, the makers can offer a mounting, where the TV is flush with the wall, almost like a hanging picture frame. And with the Samsung One Remote supplied with QLED TVs , owners can control most connected TV devices like DVD player, external speakers etc, with just one remote control. And using the mart View App ( Android and iOS) one can also seamlessly stream content from smartphone to the TV.
QLED TVs are currently available in India in three series, Q9, Q8 and Q7, in 55 inches (138 cm), 65 inches (163 cm), 75 inches (189 cm) and 88 inches (223 cm). Representive prices: Rs 2,99,000 ( for 55 inch), Rs 4,19,900 ( 65 inch).... going up to around Rs 24 lakhs at the top end. Curved versions in each size cost a bit more than the flat TVs.