The rise and rise of online retail in India has seen 'disruptive' brands like OnePlus challenge the status quo. OnePlus has built almost all its equity online with a loyal legion of fans and products that have unabashedly flaunted their 'flagship killer' appeal. This disruption has caught many of the established unawares. Samsung's first major device launch for 2018 is a clear indication that this chaebol won't shy away from a tough fight. A battle that has also seen brands like Huawei and Xiaomi scrambling for a piece of the action in the lucrative Rs 30,000—35,000 price band.
The A8+ has clearly trained its sights on the OnePlus 5T. It wears an identical price tag and just like the 5T, it's available exclusively on Amazon India. Comparisons with the 5T are therefore inevitable. Samsung sparked one of 2017's most definitive trends by shrinking the bezels with its immersive infinity display. A feature that first set the Galaxy S8 and then the Note 8, apart from rival flagships. This year, the trend percolates further down Samsung's brand pyramid. The A8+ sports an infinity display that is almost in the same league as Samsung's pricier flagships. It's the device's headline feature with a six-inch FHD Super AMOLED display (1080 x 2220 pixels). It packs a decent 411 pixels per inch (PPI), while the 18.5:9 display ratio makes it the perfect accessory for catching videos and HD content on the go.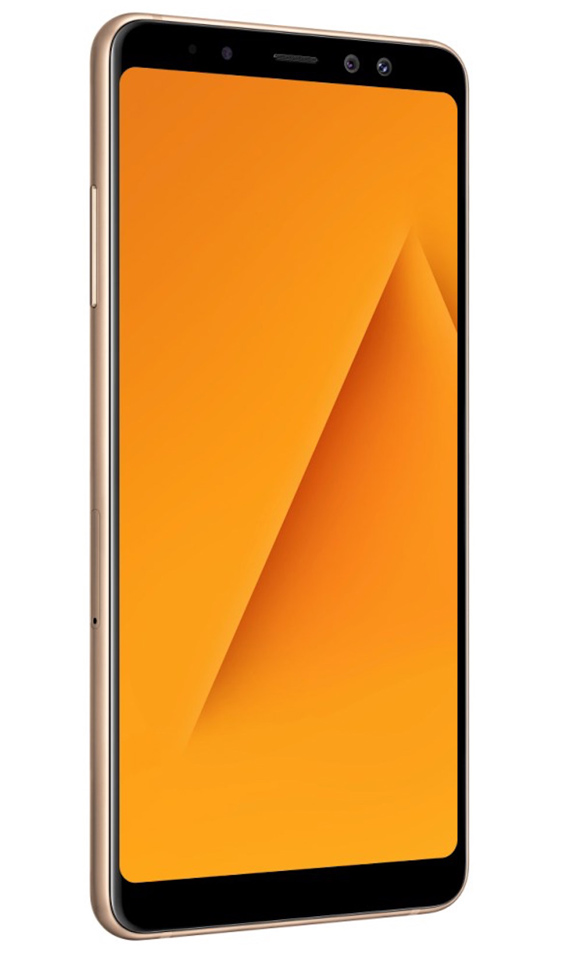 It's not the only area where the A8+ has a slight edge over the 5T; we were impressed with the device's design language too. The A8+ will appeal to a consumer who seeks that extra oomph with the presence of a flagship device. Of course, you don't have to break the bank. Glass and metal seamlessly come together in a device that feels good in your hand. It's not unwieldy, works well for one-handed navigation and weighs 191 gms. While the smooth curves make this device comfortable to grasp, the all-glass back is bound to attract fingerprints. Unfortunately, the A8+ also incorporates our least favourite feature of the S8 and the Note 8. The fingerprint sensor on the A8+ is positioned below the rear cam and is not always easy to find. This problem is further accentuated with a protective back case.
Staying with the camera, the A8+ boasts of a 16MP rear cam. One of the highlights of this shooter is its f1.7 aperture that offers better control in low-light scenarios. The A8+ shoots some sharp images especially in ambient light. However, it's the device's dual front cam (16MP + 8MP) that sets it apart in this segment. Aside from run of the mill features like wide-angle selfies, it also offers multiple possibilities like a bokeh and blur mode that will please your vain side.
The A8+ also adds Bixby Vision to augment its camera proposition. It's early days yet but Bixby, Samsung's digital assistant has made great progress. Samsung has opted to release the A8+ with Android Nougat (7.1.1) out of the box. It's been a while since Oreo (Android 8.0) has hit the scene and there's no word on when the A8+ will transition to the latest iteration of Android.
Firepower—it's the one thing that users love on their phones. It doesn't matter even if they don't require all that RAM and processor speed but it's certainly reassuring. We pushed the A8+ with multi-tasking and gaming and it didn't flounder. The device is propelled by a 2.2GHz, 1.6GHz Octa-core processor that teams up with 6GB of RAM. There's 64GB of on-board storage with a hybrid slot that can house an external memory card (up to 256 GB) or an additional SIM card. The 3500-mAh battery should comfortably last you a full day in the office allowing you enough breathing space for camera usage and video playback. The Type-C charger offers fast charging and yes, the 3.5-mm headphone jack stays.
Samsung's A series phones are becoming a significant part of Samsung's game plan. The A8+ (the smaller A8 that was unveiled globally at the beginning of this year isn't likely to hit the Indian market) makes some key improvements over last year's A7. It's not short on style quotient, features a gorgeous display and is also water and dust resistant (IPS 68 certified).
But, is all that sufficient ammo to take the fight to likes of the OnePlus 5T and Honor View 10? We'll find out soon enough.