Director Rajamouli has deployed a 32-camera VR system from AMD. You can check out the VR effect here by using the 360 degree navigation tool in this YouTube video
When it hits Indian screens in April 2017, Baahubali: The Conclusion , the sequel to director S. S. Rajamouli's effects-heavy 2015 blockbuster, Baahubali:The Beginning, will likely be the first Indian feature film to embrace Virtual Reality. Key sequences were shot in 360 degree video using a VR capture camera developed by AMD (codenamed 'BB360') and putting the multiple shots together with the video stitching software, Project Loom.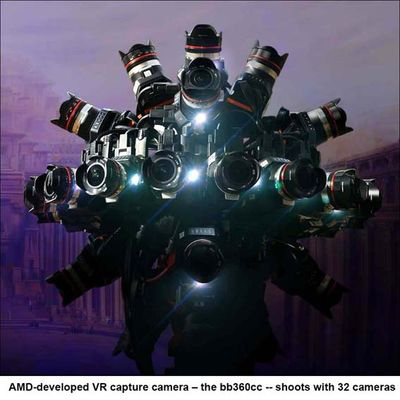 To give fans a heads-up on what the VR effects will look like, the makers put together a short on-set movie on the making of the film and previewed it last week at the JioMAMI ( Mumbai Academy of Moving Image) Film Festival in Mumbai. Raja Koduri, Senior Vice president and Chief architect of the AMD Radeon Technologies Group, showcased this and other new technologies to create immersive VR experiences for cinematographers ( You can experience the VR effect using the 360 degree navigation button on the YouTube video version of the film at this link).
The AMD VR camera is in fact, 32 separate cameras looking in different directions. With the Loom software, editors can stitch together a 360-degree video in real-time rather than in hours and days. The Open Source Loom tool will be available to all content creators by December 2016.
Also previewed at MAMI was another promotional short, in VR—"The Sword of Baahubali". This will be used by the makers a few weeks before the launch of the Baahubali sequel to build up the hype.