Love is in the air in Rio de Janeiro. He Zhi of China, who won the silver medal for diving, was in for a surprise at the medal ceremony. While the silver medal may have brought tears of joy, that is not the only reason why she broke into tears at the podium—her boyfriend, fellow diver Qin Kai, got down on his knees and pulled out a ring. Wola, what a fabulous way to propose to your loved one. And, she said yes. The pair have been together since 2010.
This is not the first engagement at Rio. Last week, Brazilian rugby player Isadora Cerullo accepted a proposal from her girlfriend, Majorie Enya. For most people, the rugby field may look far from romantic. But for Enya, this was the perfect spot. And she made sure it looked romantic. Enya, who is an Olympic Games volunteer, got her friends together to hold up heart-shaped balloons as she and Cerullo embraced. The proposal came after the medals ceremony that saw Australia win the first-ever women's rugby sevens gold. Brazil finished in ninth place out of 12 entrants. "The Olympic Games can look like closure, but for me it's starting a new life with someone," Enya told media. "I wanted to show people that love wins."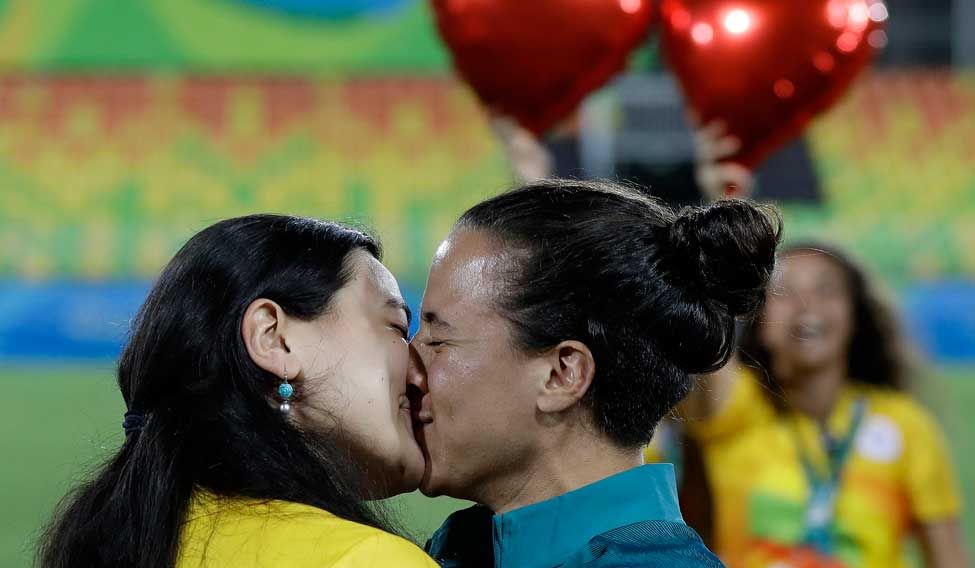 Brazilian rugby player Isadora Cerullo (right) kisses her partner Marjorie Enya, after she was asked to marry her at the end of the medal ceremony for the women's rugby sevens match in Rio de Janeiro | AP
American track and field athlete William Claye had a plan. He had to propose to the love of his life, hurdler Queen Harrison. And he did just that. He won a silver medal in the triple jump, then climbed into the stands to propose to his girlfriend. Harrison had competed in Beijing 2008, but did not qualify for this year's Games.
If you do not find a rugby field or the stands romantic enough, how about the beach? Tom Bosworth, a race walker for Team GB, tweeted a photo of him proposing to his boyfriend on Copacabana Beach in Rio de Janeiro with the caption: "He said YES!!!" His fiancé then took to Twitter to share a photo of his engagement ring, writing: 'Ok then. @TomBosworth x'.
Rio, is probably the most romantic Olympics so far. Let the love remain.