Born to a pharmacist father and a botanist mother, Sudip Putatunda, an award-winning food scientist, founder and managing director of Koldplay Creamery, has been making silent inroads in the business of desserts, especially ice creams, sundaes and shakes. Today, Koldplay supplies to some of the biggest names in the business and their products are served at hotels such as Taj, Trident, Grand Hyatt, Oberoi, Novotel and Westin, to name a few.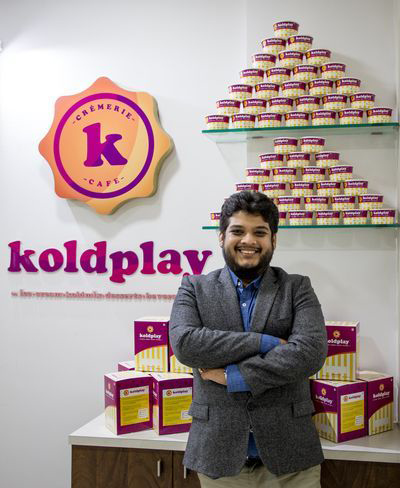 Sudip Putatunda, founder, Koldplay Creamery
Sudip studied Food and Science Technology at the University of Reading, UK, where his professors were doing research and writing papers on what were considered cutting edge topics, such as pre-biotics and pro-biotics, almost a decade ago. Besides, back home, his father, too, was a pioneer of sorts and was involved in the manufacturing of natural colour and had been awarded food patents in South Africa, Germany and USA. All this strengthened his interest and he decided to pursue Food and Science Technology.
Sudip went on to work for Kraft Foods as a scientist at their global centre in the town of Banbury. There, one of his projects was about increasing foam in a cappuccino mix by putting pressurised air into coffee powder. "Once it dissolved in water, the air is released and you get a beautiful foam. The process of capturing high-pressure air into the coffee powder—that's where food science comes into play," explains Sudip.
Knowing how tough competition is, Sudip says that he is "practically competing with every waffle and juice centre out there, when it comes to flavourful indulgences" but clearly, he is miles ahead of the competition. The reason? Unlike chefs who use an intuitive approach towards taste, Sudip uses a scientific one. "They come from a restaurant background, whereas I come from a science and technology background, so the approach towards food and innovation is unique," he says.
Sudip was very clear he wanted to create a consumer product of his own and that's how Koldplay was conceived. Ice cream attracted him because "it is a foam, an emulsion with flavours and you can do a lot of cool things with it."
More importantly, Sudip looked at it from a business angle. "Not only was it was easy to run from an auditing point of view but because it is ice cream, it was non-alcoholic (which meant no excise duty) and was a vegetarian business," says Sudip. There was also the fact that since it was a frozen product, it gave him a very predictable input output ratio which meant that suppose he supplied four litres of ice cream, he knew how many scoops one would get out of it. "This was not the case with biryani, for instance, where the rice, oil and chicken ratios are not predictable," he says.
"Also, this business has the benefit of being a quick service restaurant or an institutional business," he says explaining how he takes pride in calling Koldplay an "unfunded startup". However, he doesn't mind it because he believes that he doesn't want to crash and burn in a year or two. In fact, he says that he wants to build a solid business that will last a generation or two.
What distinguishes Koldplay is that because of his scientific background, Sudip is able to manufacture a stellar product at a lower cost price. Also, when it comes to certain aspects such as sweetness, creaminess, colour density, freezing point and melting attributes, which are very important for ice creams, he feels his product is far superior.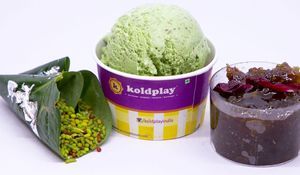 Maghai meetha paan
Also, there is no (at times bare minimum) use of artificial flavours or colours. "Our spearmint flavor, for instance, tastes outright of spearmint. It has agreat combination of natural colour and flavour, he says. If we use wasabi, we actually use wasabi, not a flavour, he says. Some of Koldplay's original flavours are honey wasabi, smoked honey almond, mandarin orange chocolate, peanut butter nutella, raspberry sorbetto, kiwi sorbetto and Paan shot—a maghai meetha paan concoction.
Another exciting development awaits Koldplay in the coming months—they are all set to launch a 'health' ice cream. The product, which is is currently being tested for shelf-life, is targeted at people who are health conscious. "It is for people who want a tasty product without a sugar rush, with low carbs and high proteins. It will be the healthiest ice cream in the market," claims Sudip.
With modern scientific approaches, better processing and machinery, better levels of service in terms of innovation and customisation and with better retail and institutional presence, Sudip hopes Koldplay open to everybody with all kinds of pockets. Though for now, he is focused on consolidating his position in Mumbai, he soon plans to move to other states such as Gujarat, Karnataka and NCR in the next three to four years. "We want to take small steps, but the right steps," he says.