Hillary Clinton announced Senator Tim Kaine as the Democrat's candidate for vice president on July 23, days after Republican candidate Donald Trump declared Governor Mike Pence as his.
Both Trump and Clinton selected safe bets as their running mates, according to political pundits. Twitterati wryly suggest that this election should have been more a Kaine versus Pence contest, rather than Clinton versus Trump—such is their reputation for a level-headed, civil dialogue on the debating platform.
The two running mates are anything but soft puppets in the shadow of their presidential candidates. The Democrats are using Kaine's untarnished political experience and public service record to carve an edge over the Republicans. On the other hand, Pence's cool temperament and unwavering right-wing ideological discipline make him a sensible foil to the dramatic Trump.
Here's what you need to know about the two possible vice presidents:
Tim Kaine, 58, Democratic Party
Kaine has had a steadily rising political career for the past 20 years
Picked out of vice presidential hopefuls such as Tom Perez and Tom Vilsack, he is celebrated for his undefeated political record. He started off as a lawyer in Richmond, Virginia. He won a seat in the city council in 1994, was elected as mayor in 1998, and became lieutenant governor of Virginia in 2002. He became governor in 2006 and had been shortlisted for vice president in the 2008 elections. He became senator in 2012.
He spent a year off law school to assist in running a Jesuit school in Honduras
He completed law school and practised law in Richmond for 17 years, representing cases for those who were denied housing on account of disability or race. Kaine's proficiency in Spanish is an advantage for Team Hillary to bring in Latino votes. He famously gave a 14-minute speech in Spanish in 2013—the first time anyone has ever done that—on the Senate chamber floor, fighting for immigration reforms. His nomination is also expected to appease African-American voters.
Kaine is married to Anne Holton, who is currently the Virginia education secretary
Holton's father, Linwood Holton Jr, was a Republican governor of Virginia. He is famous for his anti-segregation fight, supporting laws to redress racial segregation in schools, considered controversial during his tenure. He even sent his children to "traditionally black" schools.
Kaine's track record is comparatively clean, without too many scandals
Even the accusation that he accepted gifts worth $1,60,000 was not enough to deal a catastrophic blow to his reputation. He was well within the state's predefined limits of gift tax laws.
Kaine and Clinton agree on most issues, except two
Kaine and Clinton see eye to eye on major issues such as abortion rights, strengthening gun control laws, and reforms in education. Last year, Clinton had openly opposed the Trans-Pacific Partnership, a free-trade agreement involving 11 countries that was discussed in October last year. Kaine had voted for it and it was signed this February. Clinton also has a more aggressive approach to military force. Kaine disagrees with her claim that the president has the power to use military force against terrorists, including ISIS.
Mike Pence, 57, Republican Party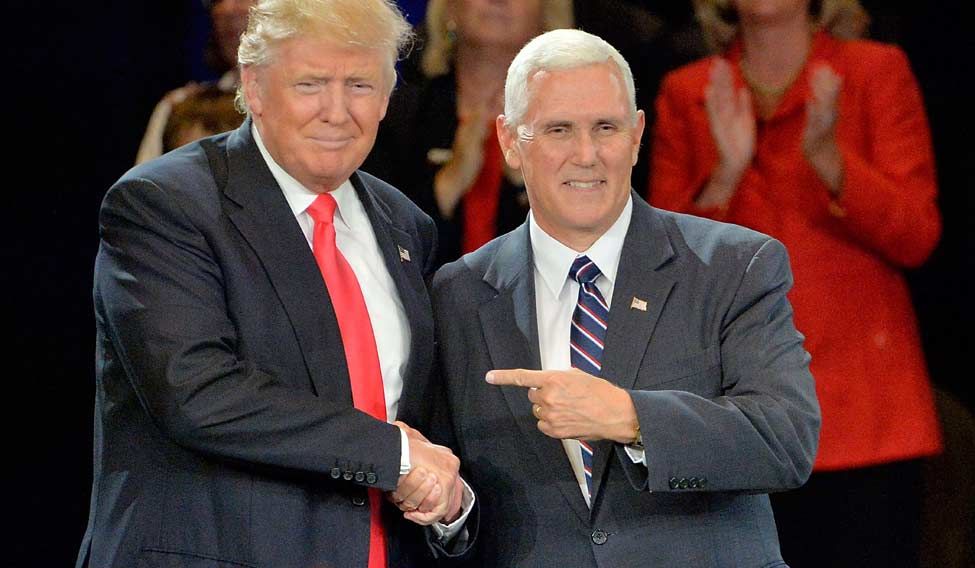 Republican presidential candidate Donald Trump (L) and Republican vice presidential candidate Mike Pence react to the cheers at a campaign stop at address an audience at the The Hotel Roanoke & Conference Center on July 25, 2016 in Roanoke, Virginia | AFP
After two unsuccessful tries, Pence made a dashing comeback to the political scene
A lawyer in the early days of his life, he contested for elections to the Congress in 1988 and 1990, and failed in both elections. In 1991, he headed the Indiana Policy Review Foundation, a free market think tank. In 1994, he had a successful stint as a talk show host on the radio. About 11 years later, he finally made it to the Congress. In 2013, he became the governor of Indiana.
He is against abortion and Planned Parenthood
In 2011, he was nearly successful in passing a bill to stop funding Planned Parenthood, before it was struck down by the opposition. This year, a bill banning abortions for reasons of genetic anomaly was signed into law by him.
Pence's family has been involved in all his campaigning
He calls himself a 'Christian, conservative and a Republic - in that order'. He met his wife Karen Pence during mass in a church, and got married in 1985. His wife and three children travel with him on his campaigning tours. Karen is a former school teacher, one of his sons is a marine corps officer, and his daughter is a budding film maker. Raised Roman Catholic, Pence is a born-again evangelical Catholic.
Pence is not immune to controversial misunderstandings
He received nation-wide attention last year when he signed into law a bill that, according to activists, could "excuse discrimination on religious grounds" and was anti-LGBTQ. But, after much backlash, he amended the law, and declared that the law was not meant to be discriminating against any particular person or group. More recently, Clinton claimed that Indiana cut down on state education funding under Pence's administration. It turned out to be false; spending on education has reportedly risen slightly since 2013, when Pence came into office, despite certain slashes in individual sectors of education.
Trump and Pence are unlike each other
Pence's far right-inclined conservative outlook in the economic and social spheres are well in tune with the GOP's current rhythm, headlined by Trump. But they still have their differences. For instance, Pence is against smash-mouth campaigning, which both Trump and Clinton have adopted aggressively. When Trump made his controversial statement about banning Muslims from the US, Pence stood up against it. He is still against it, but supports Trump for president.