Qandeel Baloch, the Pakistani model who was shot dead by her brother on Saturday in a suspected honour killing, had a penchant for controversies. The 25-year-old celebrity who was also a television actor and a singer, became the eyesore of religious fundamentalists after her bold videos and pictures started taking Twitter and Facebook by storm.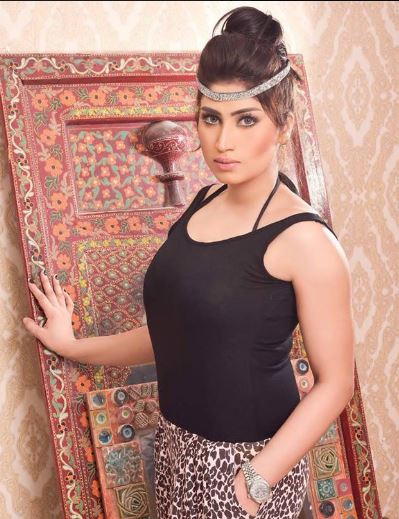 Baloch had sparked off a social media sensation when she announced that she would strip for Pakistan cricket captain Shahid Afridi if their team beat India in the World T20 tournament on March 19.
"If Pakistan beats India on 18th march, ill do a strip dance for all of you & will dedicate it to Shahid Afridi. Umaaah," she had said in her Facebook post. And that made her Pakistan's Poonam Pandey.
However, that was not the first nor the last time Baloch faced the wrath of religious conservatives. She took selfies with cleric Mufti Abdul Qavi and uploaded on her Facebook and Twitter accounts, stirring up a storm on the social media. Mufti Qavi was eventually suspended from the Ruet-e-Hilal Committee and the National Ulema Mushaikh Council.
In what could be a clear provocation to the fundamentalists, Baloch uploaded a video in July, in which she was seen asking Indian cricket Virat Kohli to accept her in a very seductive tone. "Seriously, he (Virat) should leave Anushka and think about me. I would love to be with him. Virat, I love you baby. Please, please, please, please leave Anushka. Leave her," Baloch said in the video which went viral in both Pakistan and India.
Despite her affection for Kohli, Baloch was ready to strip only for one Indian, and that is none other than Amitabh Bachchan!
It was not only Virat or Afridi who conquered her heart. The model said Pakistan politician and former cricketer Imran Khan must have chosen her as life partner.
Baloch defied all the barriers in society when she dropped her new video "Ban" earlier this month. The video song features Baloch dancing along with a pop artist called Aryan Khan suggestively to the song which goes "Tere thumke de lag jaana ban" that means "your hip-shaking will be banned."