India-China (Yangzhou) Business and Investment Forum and India Week celebrations in Yangzhou (Jiangsu), organized by the Consulate General of India(CGI) in Shanghai along with Yangzhou Municipal People's Government, began on Friday. CGI Shanghai's template of cooperation with Yangzhou is a unique initiative, which aims to bring together economic, commercial and cultural aspects, and intends to transport a truly Indian experience into Yangzhou for one full week.
"The city of Yangzhou in Jiangsu province has been a key business partner for India in the Eastern China Region (ECR), and Yangzhou companies have shown keen interest in investing in India as part of the projects available under the Make in India initiative. YAPP (based out of Yangzhou), which is one of China's leading auto-component manufactures already has a manufacturing base in India. There is also considerable interest amongst Yangzhou people in knowing about Indian culture, films and art forms and given this context, Yangzhou has been chosen as the second city in Jiangsu Province (after Wuxi) for launching the India Week celebrations," read a statement released by the CGI.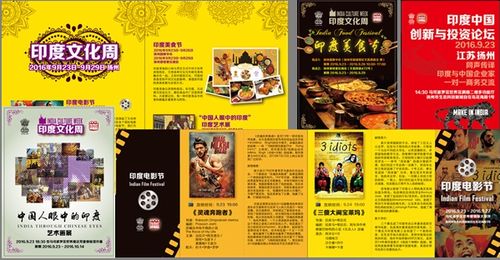 Yangzhou Party Secretary H.E. Xie Zhengyi received the Indian delegation led by Consul General Prakash Gupta, accompanied by CEOs of leading Indian companies who participated in the Business and Investment Forum held on Friday. Indian companies would introduce the latest investment opportunities in India in sectors like Smart Cities, infrastructure development, urban transportation and power sector, Banking, IT and Finance, which are now available to Chinese companies under the Make in India programme. A series of B2B meetings have also been planned for the participating Indian companies with their Chinese counterparts.
In addition, as part of Yangzhou's International Cuisine Festival, an Incredible India Pavilion was also inaugurated on Friday, showcasing select Indian delicacies and will promote tourism related travel options for Yangzhou visitors to India. The Incredible Indian Pavilion will be jointly inaugurated by the Consul General and Yangzhou city leadership.
Given the tremendous interest generated by Indian films amongst Chinese audiences, a week-long Indian Film Festival featuring five of India's most successful recent movies – ('PK', 'Three Idiots', 'Bhaag Milkha Bhaag', 'Taare Zameen Par', 'Queen' – all in Chinese) would also be available for viewing as part of the Indian Film Festival at an open public theater at the Marco Polo Flower World in Yangzhou. At the same venue, art lovers from Yangzhou would also get to enjoy an exhibition of Indian paintings (drawn by Chinese veteran artist Wang Zhijie) titled 'India through Chinese Eyes', which will be on display for nearly three weeks.
"It is expected that the Business and Investment Forum coupled with the series of Indian cultural events will foster a better understanding of Indian arts and culture in the minds of Yangzhou people and further promote bilateral investments between India and the Eastern China region," read the CGI statement.