A hijacker seized an Egyptian airliner on Tuesday and diverted it to Cyprus, where it landed at Larnaca airport on the south coast, Cypriot police said.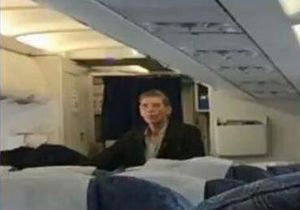 Egypt state TV broadcast purported picture of the hijacker
According to media reports all passengers except for some foreigners and the crew members have disembarked the plane.
The remaining passengers are three British, one Italian, Irish, according to Egyptian media.
The hijacker was later identified as Seif Eldin Mustafa. Initially the Egypt's state television had named the hijacking suspect as Ibrahim Samaha, an Egyptian national. But there seems to have been a mistake in the identity of the hijacker as a man claiming to be Ibrahim Samaha has come forward saying that he is not the hijacker and that he was one of the passenger.
The hijacker had sent an envelope containing four pages written in Arabic to a Cypriotic woman, whose name has been given to the authorities. local media reports said the hijacker's ex-wife is being escorted to the airport to meet him.
The plane was carrying 81 passengers and seven crew members according to an Egyptian airport official.
The hijackers contacted the control tower at 8:30am (0530 GMT) and the plane was given permission to land at 8:50am, police said. It has been confirmed that the hijacked aircraft is an A320 belonging to EgyptAir.
The hijacker has demanded political ayslum.
Media reports suggest that there are explosives on board.
The Egypt Air tweeted confirming the hijack: ‎@EGYPTAIR Our flight MS181 is officially hijacked. we'll publish an official statement now. #Egyptair