It's a celebrating moment for America. For the first time in the history of the world's oldest democracy, a woman has been nominated as the presidential candidate of a major political party. Democratic leader Hillary Clinton clinched the nomination on June 6 as she hit the magic number of 2,383 delegates. The milestone development came exactly 100 years after the first woman, Jeannette Rankin, was elected to the Congress and 95 years after the American constitution guaranteed women's right to vote. Better late than never!
At this historic moment, we bring you a few lesser known and non-political facts about Hillary.
An ardent reader: Hillary loves reading mystery novels. She also reads detective novels, though she calls them 'cheap thrills'. "I like a lot of women authors, novels about women, mysteries where a woman is the protagonist … It's relaxing," Hillary told New York Magazine in May. And her favourite authors? "I will read anything by Laura Hillenbrand, Walter Isaacson, Barbara Kingsolver, John le Carré, John Grisham, Hilary Mantel, Toni Morrison, Anna Quindlen and Alice Walker," she said in an interview with NYT.
A Chocolate lover: In a Slate article in 2008, Hillary revealed that she was a big fan of Oliveburger during her school days. In her White House years, she loved to eat Boca Burgers. Hillary is a fan of spicy foods as well as Middle Eastern flavours. Lamb is her favourite meat while Chocolate is her most craved food. And will she cook? "I'm a lousy cook, but I make pretty good soft scrambled eggs," she said once. However, a WSJ report says she puts hot sauce on everything, even salad!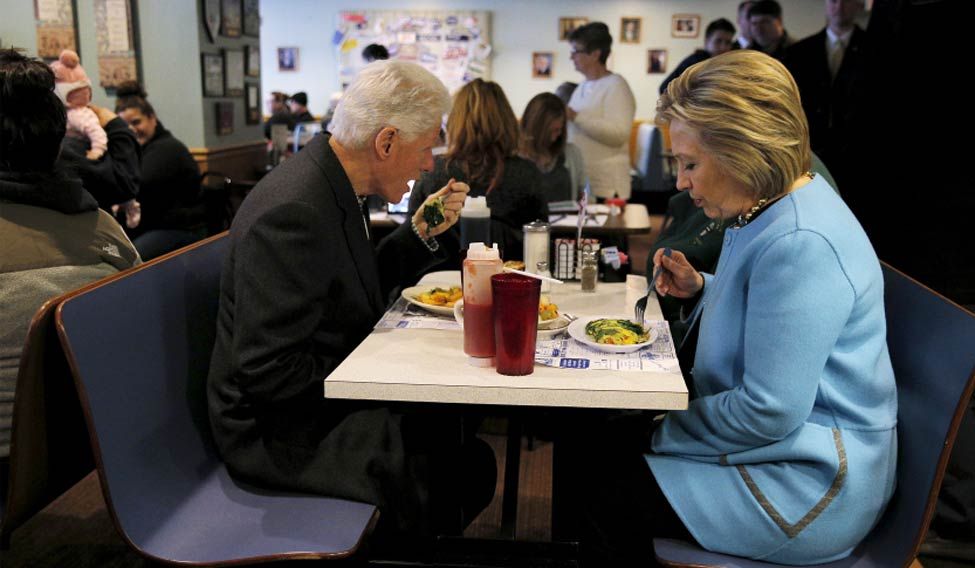 [File] Hillary Clinton and her husband, former US President Bill Clinton eat breakfast at the Chez Vachon | Reuters
A canine lover: Hillary currently owns three dogs—Seamus, Tally and Maisie— with her husband, Bill Clinton. She presented Seamus to her hubby as a Father's Day gift in June 2002. During her White House days, she had a cat named Socks and a chocolate Labrador Retriever named Buddy.
A globe trotter: Hillary travelled 956,733 miles and visited 112 countries as a secretary of the state. If you go by further details, she travelled 2,084.21 hours, which is equal to 86.8 days. She spent more than a year travelling during her time at State.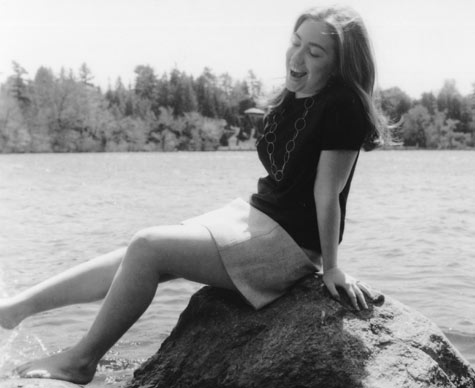 [File] Hillary Clinton is pictured as a student at Lake Waban at Wellesley College in the town of Wellesley | Reuters
She wanted to be an astronaut: Hillary said in a speech in March, 2012: "My dream was to be an astronaut when I was about 13 or 14 years old and the United States was starting its space program. So I wrote a letter to the NASA space agency and asked how I could become an astronaut. And I got a letter back saying that they weren't accepting women. Now, I have to be very honest with you. I could never have qualified. But it was a dream, and I have been thrilled to see young women follow that dream and do so with such skill."
Her fascination with spirits: Hillary had a habit of talking with idols such as Eleanor Roosevelt. She has once revealed that she believes in spirits, even though she is not sure about the existence of ghosts or aliens.
Not behind the wheels for long: Hillary hasn't driven a car since 1996 on the instructions of the Secret Service, and it is something that her husband Bill Clinton pines for too.
She was paid more than Bill: At the end of eighties and at the beginning of the nineties Hillary brought in a substantial income as a lawyer and it was higher than that of Bill. When she became one of the most influential lawyers in the country, Bill was at government service.
She wanted to be a Marine: Hillary revealed she wanted to be a US Marine at the age of 27 and visited a recruiting office in Arkansas. "You're too old, you can't see and you're a woman," she was told by the recruiter. It was in the same year she married Bill.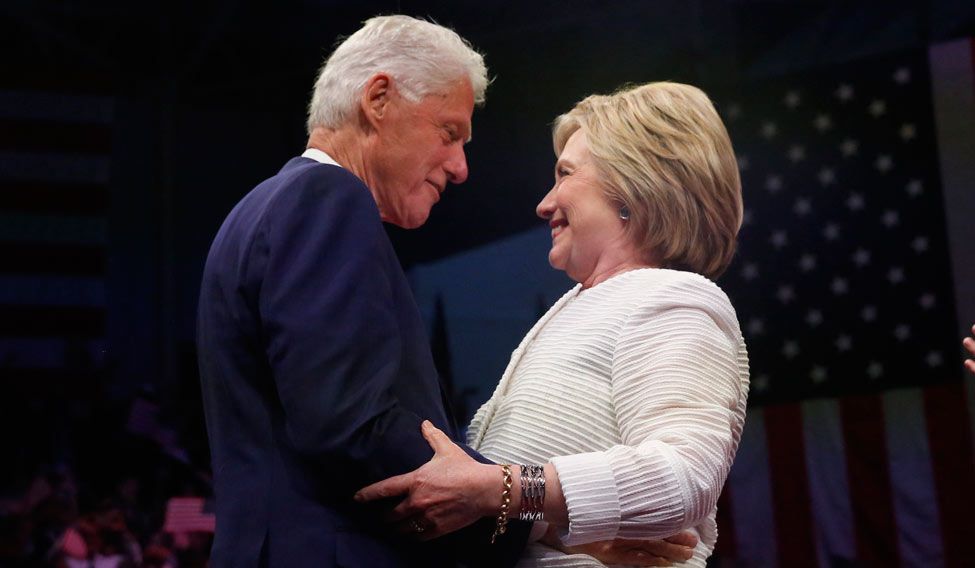 Hillary Clinton stands onstage with her husband and former President Bill Clinton after speaking during her California primary night rally | Reuters
Is all well with the couple? Bill and Hillary Clinton were married in 1975 after meeting at Yale University. Bill Clinton proposed to her twice before she said yes. However, the relationship soured over Bill's alleged affairs with Monica Levensky and allegations of sexual assault against him by Kathleen Willey, a former White House volunteer. Reports say that after the White House days both husband and wife used to meet quite rarely and that Hillary even thought of seeking a divorce. However, the couple were seen together recently after Bill hit her campaign trail earlier this year.