India's top shuttler and World No.2 Saina Nehwal came up with a dominating performance to outclass World No.1 Carolina Marin of Spain in the women's singles match at the BWF Superseries Finals here on Thursday to keep her semi-finals hope alive.
Saina defeated Carolina 23-21, 9-21, 21-12 in the Group A match which lasted for 75 minutes at the Hamdan Sports Complex here. After the win, Saina extended her dominance over the Spaniard by a 4-2 margin.
On the other hand, another Indian shuttler and World No.9 Kidambi Srikanth lost his second successive game as he went down to World No.6 Viktor Axelsen of Denmark 13-21, 18-21 in a Group B clash which lasted for 37 minutes.
The opening game of the women's singles saw a neck-and-neck clash between the top two shuttlers. Carolina went into a healthy 7-5 lead but Saina soon engaged her rival on long rallies well to make it 14-14.
From there on, both players went on to win points one after the other to stand at 20-20. But the Indian held her nerve till the end as unforced errors from the Spaniard handed over the game to Saina.
Carolina proved why she is the No.1 player as she came back into the match with some aggressive shots to take a 15-6 lead in a few minutes to put pressure on Saina.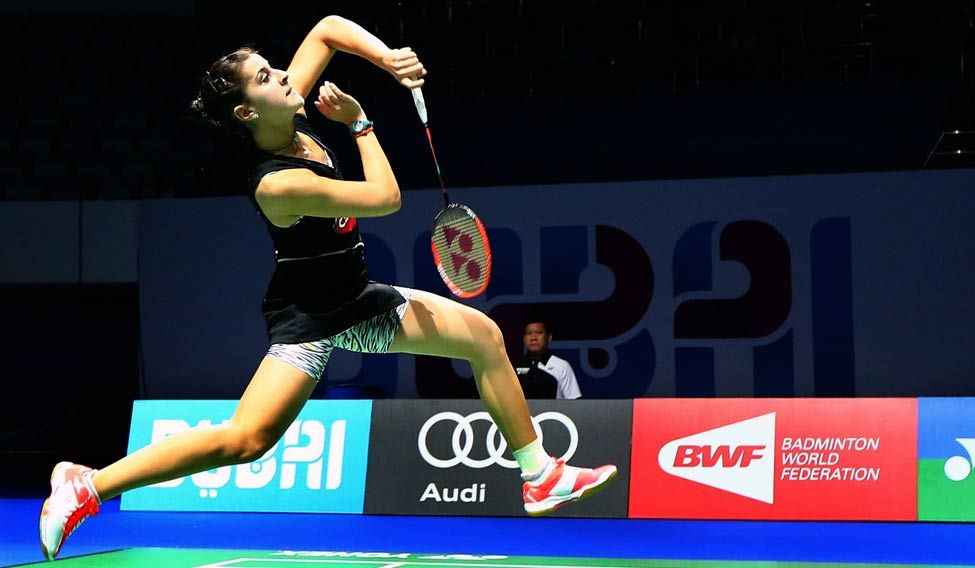 Carolina Marin returns a shot against Saina Nehwal | AFP
The change of side didn't change Saina's fortune as her opponent cruised and a couple of unforced errors from the Indian helped Carolina win the game in a one-sided affair and level the match 1-1.
In the third and final game, the Indian took confidence from the first game she won to go ahead of her opponent in style. Saina made it 11-8 in her favour.
From there on, there was no looking back for Saina as she held on to her dominance in the very game to win it 21-12 at ease and pocket the match.
With this win, the Indian keeps her semis hope alive and will next face Tzu Ying of Taiwan in the final group match on Friday.
On the other hand, in the opening game of the men's singles, Srikanth matched stroke to stroke against Axelsen who led from the start, but the Indian crawled back into the contest first getting to 8-10 and then managing to draw level.
However, Axelsen just exploded into life after 10-10 and brought things under his control, he made Srikanth work hard and surged ahead to 17-11. Srikanth managed to get two more points but the 21-year-old Dane easily sealed it off.
In the second game, the Dane raced ahead again and Srikanth had to play catch up.
Like in the first, Axelsen once again did not fall behind Srikanth and at one point led 16-7.
The Indian tried to pull back things and succeeded by making his rival wait at 19 points as he collected a few, trying to battle his way into the tie.
But Axelsen proved to be too strong and grabbed the set and with it the game. It was the 21-year-old's second win in the season-ending tournament.
After the loss, Srikanth's progress to the semi-finals looks grim as Axelsen has almost sealed a place with two wins. The Indian will face world No.7 Chou Tien Chen of Chinese Taipei in the final group match on Friday.
World No.5 Kento Momota of Japan, who beat Srikanth on Wednesday, can also make his place firm with a victory over Tien Chen later on Thursday. If that happens, Srikanth and Tien Chen will have to go home.