Neeraj Chopra was warming up for his turn in the javelin throw event in the World Under 20 championships at Bydogszcz in Poland, when thousands of miles away, his uncle Bhim Singh Chopra sat in the middle of their farm at Khandra in Panipat district of Haryana, checking updates on the websites. "The internet was very poor in the house in the village. I was getting better speed out in the middle of the farm!," said Bhim Singh who has not slept a wink over the last 18 hours.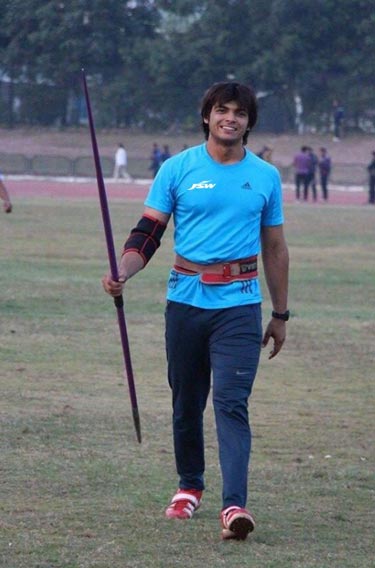 Neeraj Chopra
"The whole village, family, friends and neighbourhood are happy. We are getting non-stop phones, WhatsApp messages and there is a steady stream of visitors at home," said Bhim Singh.
19-year-old Neeraj Chopra created history in Indian athletics on Saturday night when he carved out a new Under-20 world record and clinched gold in men's javelin throw. Neeraj's second attempt of 86.48 metres broke the earlier world record of Latvian thrower Zigsimunds Sirmais by almost two meters. South Africa's Johan Grobler (80.59m) finished second while Grenada's Anderson Peters (79.69m) came third.
Neeraj, began the event strongly, logging a throw of 79.66 metres in his first attempt which put him into a provisional lead. Neeraj's second throw of 86.48 metres allowed him to regain the lead. "It is an incredible feeling. I was feeling strong and confident before the event, and after the first throw I was sure I could go farther," he said. Neeraj becomes India's first ever gold medalist in any world athletic event.
"By the time he completed his second throw and I informed home, the fire crackers started bursting. It was madness after that. No one slept," said Bhim Singh. Neeraj hails from a large farming family, where his father and three brothers live together. Neeraj lost his mother when he was 9. "We are a family of 19 people. We have 8 children between us and Neeraj is the eldest," said the proud uncle—the official family spokesperson.
A stocky Neeraj, supported by the JSW Sports Excellence Programme, has been training under Australian coach Garry Calvert at the Olympic Training Centre in Spala, Poland for the last two months.
"We are a happy, prosperous family by the grace of god. Milk, ghee, butter are consumed in abundance. Neeraj had weighed 80kg when he was just 13. We then sent him to a local gymnasium to exercise. We thought we will make him a wrestler or kabaddi player going by his build but he came in touch with a javelin coach and his friends too encouraged him in that event," said Bhim Singh. With time, effort and guidance Neeraj Chopra became totally focussed on excelling in Javelin. "He barely came home on important family occasions as he preferred to spend all his time training at NIS Patiala.
Neeraj, meanwhile gave credit to his family and coaches for supporting him. "I have worked hard for this. Garry sir (Calvert) has been a huge source of knowledge and help. JSW have provided excellent support and my parents have always backed me to push myself to be the best in whatever I do." His uncle profusely thanked the government, Sports Authority of India and all his friends and coaches who encouraged, supported and motivated him particularly after he missed qualification mark for Rio Olympics.