Calm and confident. At least, that is how it seemed when Mariyappan Thangavelu lined up for the jump that mattered at the Rio Paralympics 2016. Three steps, a few hops and then the jump, clearing the bar kept at a height of 1.89m quite comfortably. A small jump for the 21-year-old lad from Tamil Nadu, but a giant leap for a billion Indians back home.
It was only India's third gold in Paralympic history and first in high jump. Murlikant Petkar won it in 50m freestyle swimming at the 1972 Paralympics in Germany while Devendra Jhajharia struck gold in javelin throw at Athens in 2004.
Even during the medal presentation, Mariyappan's face was strangely impassive, though the relief was palpable. His compatriot Varun Singh Bhati, who took the bronze in the T-42 (a disability sport classification) event with a jump of 1.86m, meanwhile, was all smiles. Was young Mariyappan overawed by the occasion or was he just being himself—steely determination beneath the calm exterior?
For a young man whose right leg was crushed below the knee by a bus at the age of five, it was his silent determination that helped him fight the odds. Hailing from Periavadagampatti village, about 50km from Salem, Mariyappan loved to play volleyball in school but his physical education instructor advised him to pursue high jump. At 14, he surprised all by coming second in his first competitive event against able-bodied athletes. His coach Satyanarayana spotted him at the National Para-Athletics Championship when he was 18 and took him under his wings. Mariyappan became world number 1 in his first year of senior-level competition in 2015.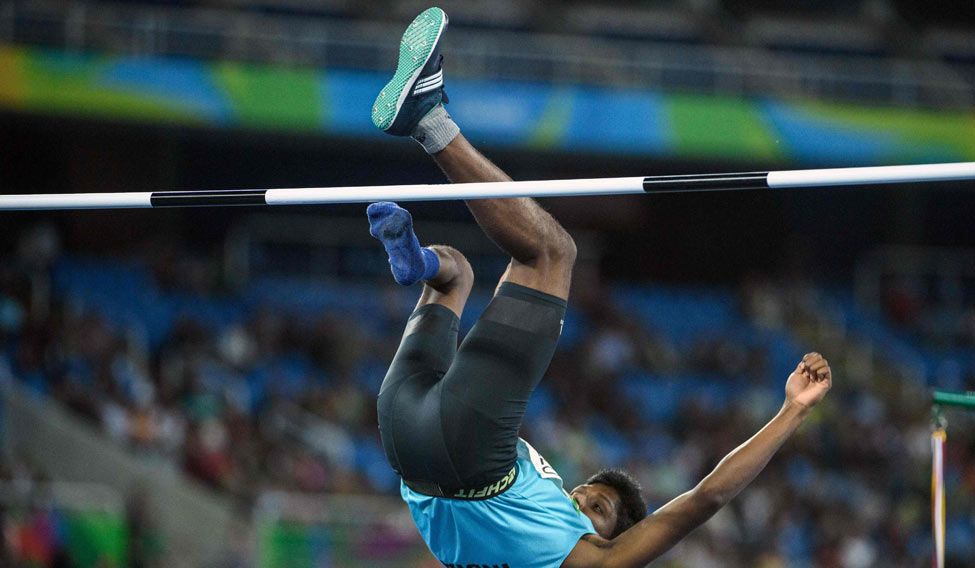 Mariyappan Thangavelu in action at the Olympic Stadium in Rio de Janeiro | AFP
For the past one year, he has been training under Satyanarayana in Bengaluru, away from his mother and his three brothers and a sister, who is married. After his father deserted the family, his mother Saroja raised the children by selling vegetables and working as a domestic help. The family, reportedly, had a tough time even finding a house for rent. Hence, a house of their own remains his top priority. He also wants to ease his mother's burden, who had taken a loan of Rs 3 lakh for his treatment, and is yet to pay it off.
With the Tamil Nadu government already announcing a Rs 2-crore reward for him, repaying debts would not be a headache now. But, more challenges lie ahead for Mariyappan and his family. He finished his BBA from AVS college of Arts and Science but his two brothers could not complete their education due to poverty, and the youngest one is in class 12. Mariyappan and his mother hope they can help the others fulfil their ambitions, too.
For a person who considers his misshapen right toe his "god", which gives him the leverage while jumping, turning misfortunes on their head and emerging victorious is a habit. Something he does every day with the straight face and the wry smile.