Over the first few days of the Rio Olympics, Hungarian swimmer Katinka Hosszú won three individual gold medals—the most for any athlete at Rio so far.
American swimmers Michael Phelps and Katie Ledecky were expected to be the crowd-pullers, but Hosszú had other plans.
On day one of the games, the 27-year-old breezed past the world record in the 400m individual medley to claim her first ever Olympic gold. Her time of four minutes and 26.36 seconds was two seconds ahead of the previous record set by Ye Shiwen of China at London 2012. (Ye finished 27th this time.)
Living up to her reputation as one of the most versatile swimmers in the world, Hosszú competed in the 100m backstroke finals and the 200m individual medley heats on day three. "The iron lady", as she is known, won gold in the former and broke the Olympic record in the latter with a time of two minutes and 7.45 seconds.
The next day, she broke that record again while claiming her third gold, with a time of two minutes and 6.58 seconds. (Hosszú set the world record of two minutes and 6.12 seconds in the event last year.)
Hosszú's is a story of transformation from an inconsistent finalist to a dominant champion. On her Olympic debut at Athens 2004, as a 15-year-old, Hosszú was ranked 31 in the 200m freestlye. At the 2004 European short course—25m pool, Olympic pool is 50m—championships, she won bronze in 400m individual medley. But, she had to wait till 2008 for her first international long course (50m) medal—silver in the 400m individual medley, which was fast becoming her staple event.
However, at Beijing 2008, she finished 12th in 400m and 17th in 200m, in the individual medley events.
She showed glimpses of her potential in 2009, when she won gold in the 400m individual medley and bronze in 200m individual medley and 200m butterfly at the World Championships (long course) in Rome. She was named Hungarian Female Athlete of the Year.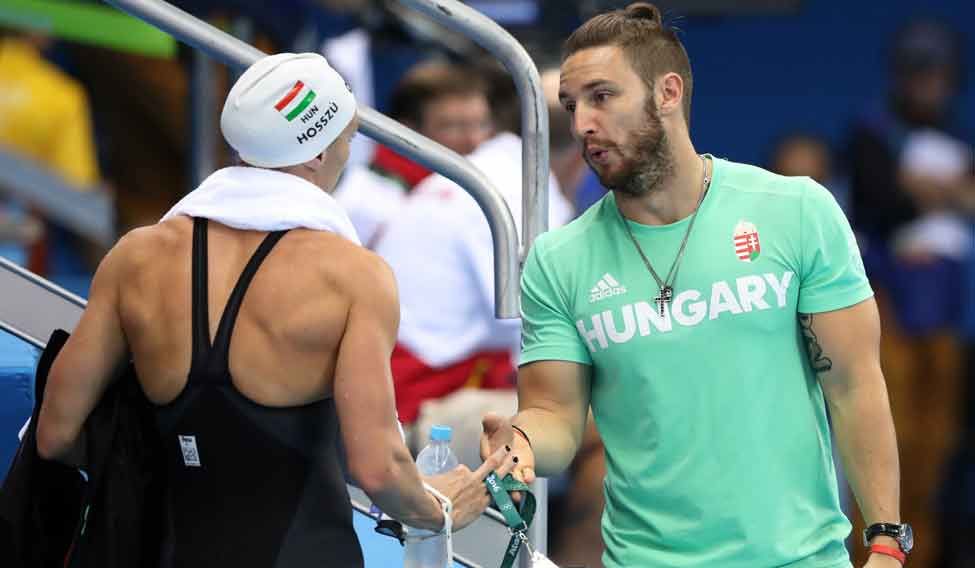 Hosszu's husband and coach, Shane Tusup, has been accused of abusing her. But she has refuted such allegations | AP
Her good run continued in 2010 as she won three golds and one silver at the European championships in Budapest. But, London 2012 was one of the lowest points of her career as she failed to win a medal.
However, redemption was just around the corner. Hosszú asked her boyfriend Shane Tusup, who was a team mate at the University of Southern California, to become her coach. Tusup put her on weight training and devised a strategy of training in the pool less and competing more.
She came charging into 2013 and the past three years have been a whirlwind of success.
With the three medals in Rio, Hosszú is now an Olympic triple gold medallist, a five-time long course world champion and world record holder in 100m, 200m (short and long course), and 400m individual medley events, and 100m backstroke and 200m backstroke. She is the first swimmer to hold world records in all these events at the same time.
She is now married to Tusup, who has been accused of being abusive.
The New York Times reported that after a below-par performance recently, Tusup lashed out at Hosszú in the warm-down area and "two people said they overheard him suggesting that she stay in the water and drown".
It seems too harsh and rather intrusive to make such assumptions about this couple. Many coach-athlete relationships are abusive. Romanian gymnastics coach Béla Károlyi's harsh methods led to many Olympic golds.
Hosszú has emphatically stated that their marriage is fine and credited Tusup for her improvements. She has been quoted as saying, "He's pretty hard as a coach, but at home he's supersweet and loving and really funny."
Hosszú will compete in the Women's 200m backstroke final at Rio on August 13 (06:33am Indian time). If she wins, she would equal the women's record for most individual swimming golds at a single Olympics, set by East Germany's Kristin Otto at Seoul 1988.