As the social media storm on Usain Bolt's indiscretion with a certain Brazilian lady named Jady Duarte refuses to settle, details about the 20-year-old are emerging.
Bolt, 30, was at a club celebrating his birthday on Sunday when he noticed Duarte. He sent over his security to talk to her and soon the two hit it off. At the time, Duarte said, she did not know that it was Usain Bolt who had approached her.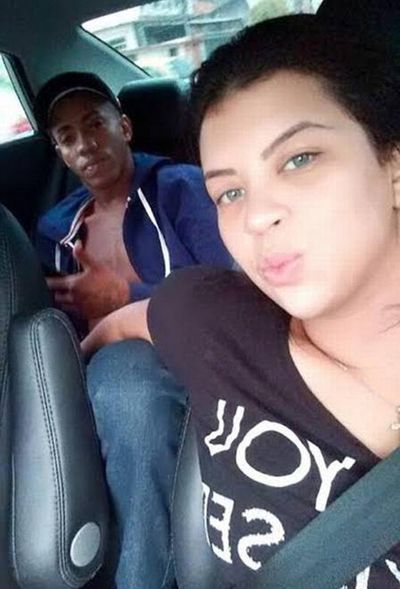 Dina Terror and Jady Duarte | Facebook
The next morning, Duarte shared with her friends on Whatsapp, pictures of the two together in bed. In the pictures Duarte is seen cuddling Bolt and he kissing her on the cheek. The pictures were leaked and soon went viral. Brazilian media quickly picked up the pictures and websites were flooded with the images of the two.
Soon, news reports emerged stating that Duarte was in fact the widow of a dangerous Brazilian drug lord. Douglas Donato Pereira, alias Dina Terror, was shot dead by elite police in March this year.
According to reports, Pereira commanded the narcotics trade in the Faz Quem Quer shantytown in the north of Rio. He was apparently known for his 'violent and bloodthirsty' ways. The drug lord was wanted for the torture and murder of a teenage girl in September 2014. He declared himself as the "terror of policemen" and "Lord of War" on Facebook, where he also frequently posted pictures of himself holding guns.
Reports say Duarte has two children with Pereira. Duarte, after his death, posted on Facebook, "In eternity, I will be with my love the way I always wanted, because in heaven all the time is time to be happy. God will take you in, it's my hope that in eternity I will see you."
After the pictures went viral, Duarte said that she was mortified with the attention she has received. "It's very negative," she told local newspaper Extra. "I never wanted to be famous, I'm dying of shame."
Meanwhile, Bolt arrived in London Heathrow airport on Monday unconcerned about the furore the leaked images had caused. Bolt's sister had revealed that he was in a long-time relationship with a 26-year-old model, Kasi Bennett, who he calls his "First Lady". The Rio Olympics was the champion's third and final Olympic Games where he won three gold medals.