Rudolph Nureyev was drawn to the way that Johan Cruyff moved with the ball as a pilot might admire a bird in flight. The male lead of the Kirov Ballet knew all the aspects of body mechanics and grace, but he could never work out how it was done under the physical pressure of opponents trying to bring Cruyff down, or in situations where nothing could be rehearsed.
"While Pelé of Brazil and Alfredo Di Stéfano, Diego Maradona and Lionel Messi (all of Argentina) were his peers, no-one has gone on to translate player power into coaching or management the way that Cruyff has."
In some ways, Nureyev and Cruyff were two of a kind: Extraordinary artistes, non-conformists in their field and in life, yet performers who would go on to be teachers - a choreographer and a coach looking to pass on their knowledge to the next generation.
Where Cruyff is perhaps the more exceptional is that he succeeded in building a legacy that survives his death last month. Ajax Amsterdam and FC Barcelona (and also the national teams of the Netherlands and Spain) became at their best expressions of what Cruyff strove to be in the first half of his 68 years.
Sport is cruel that way. Cruyff once said that "you play with your head, and your legs are there to help you."
But when the legs lose their power, the head has to take over. What marks Cruyff out in terms of the greats of his game is that, while Pelé of Brazil and Alfredo Di Stéfano, Diego Maradona and Lionel Messi (all of Argentina) were his peers, no-one has gone on to translate player power into coaching or management the way that Cruyff has.
Watch Barcelona at its best, and you see Total Football, or Tiki-taka, at it's best. Understand what Pep Guardiola, the coach of Barcelona, and now Bayern Munich and soon to move on to Manchester City is striving to achieve, and it is what Johan Cruyff taught him.
Guardiola, the most sought-after modern coach, was the team captain under Cruyff, and Andres Iniesta, Xavi Hernandez and latterly Messi, came through La Masia academy which Cruyff persuaded Barcelona to open to emulate the Ajax Amsterdam schooling system where he began.
It might sound as if soccer is purely a matter of educartion. It isn't. Players are born with talent, or not. They can, like soldiers, be regimented into a tactical pattern, but the greats mentioned above have innate talent, and the personality to express it.
Since Cruyff died on March 24, much has been written about him being the star of Rinus Michels's making, and claims that the coach Michels was the "father Total Football".
I have it on good authority that this is a misinterpretation.
My sources? Cruyff, and Michels.
I knew from the first time that I met Cruyff in 1972 that he was his own inspiration, initially inspired by watching Di Stefan. When Cruyff was a boy, he marveled at the adaptability of Di Stefano in the Real Madrid side - a player going everywhere, doing everything on the field.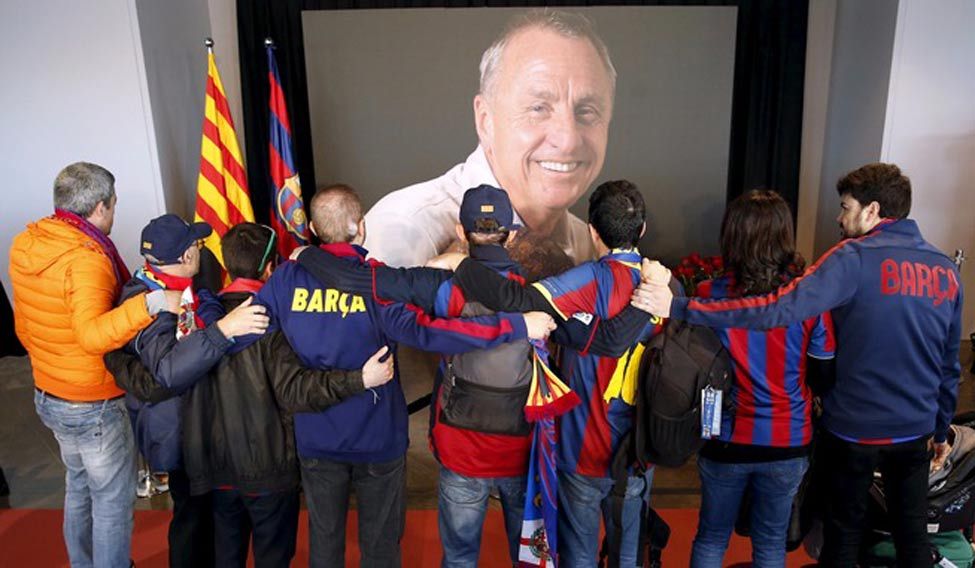 Fans pay tribute to Johan Cruyff | Reuters
Talking with Michels years later, in Barcelona in fact in 1999, I was assured by the coach that without Cruyff he felt he had no team. "His variations are so many, his skills so bewildering, you only knew afterwards, when he had gone, what he would do," Michels said.
Totaalvoetbal, as the Dutch would say, was evolved but not invented in the Netherlands. Austria's "Wunderteam" in the 1930s played a style described as the Whirl because of the way that players interchanged positions, moving around within the team.
"Cruyff coached an extreme form of Total Football in his eight years as Barcelona's creative overlord. The word coach doesn't do justice to it. He taught a philosophy, which had to come from the kindergarten of La Masia school."
Hungary's "Magical Magyars", the team that destroyed the myth of English invincibility at Wembley Stadium in London, also had this fluidity, this improvisation that the Dutch under Michels and Cruyff mastered. And many years later, I was told the inside story of that Hungarian team, by Sandor Barcs who led the federation at that time.
Barcs spoke about Gusztav Sebes, the Hungarian trainer, lecturing the team in the dressing room before kick off. "When Sebes left the room to go to the toilet," Barcs confided, "the players, Ferenc Puskas and the rest, said, o.k. forget all that, this is what will do."
In a word: Improvise. The Magyars knew they were better, man-for-man than the rigid English. They changed positions all over the pitch. They bemused England, winning 6-3 at Wembley, and the following year 7-1 in Budapest.
The irony of that deflowering of the English was that Hungarians said that they learned all that they knew about strategy from an Englishman - Jimmy Hogan. And Hogan was a rolling stone, never hailed in his own country, yet credited by Hungarians, by Austrians and even by Germans, as sowing the seeds for their styles of play.
Englishmen, or Scots, also traveled to South America, to teach or to build the railways. Some of them arrived with the old leather footballs, and set the ball rolling for Brazilians, Argentines, Uruguayans and the rest to play. Decades have gone by in which, having given the Latins our ball, we English have struggled to get it back from them.
Cruyff, though, had his own way of playing and, through force of personality of passing on the way he felt the game should be played.
It started on the streets of old Amsterdam, in the shadow of the De Meer stadium where Ajax played. He was a child laced to the ball. His father Hermanus died of a heart attack when Johan was 12, and the boy opted out of full-time schooling then. His mother Petronella cleaned the steps of the stadium while Johan was on the streets, whirling around lampposts, bemusing older kids, living his game and inventing his own moves.
That, and cigarettes, became his two addictions. Cruyff was a wispy child, smaller than his older brother, but light, quick, elusive in the street games.
"I'm not so fast," he insisted when, before the 1974 World Cup, he and I worked together on a 16-week newspaper series called "A Cruyff's Eye View of the World Cup."
Swiftness, he insisted, was an illusion. The quicker you made up your mind, you had a yard advantage because the opponent had then to react, to follow. But there is a very famous Youtube example of Cruyff advancing towards a Swedish defender in that tournament, appearing to show the ball to the opponent, and then dragging the ball away, using his heel to stop it, flick it between his own legs, turn full circle, and be gone before the defender knew it.
"Every time I see the video," the defender Jan Olsson now recalls, "I think I have got the ball. Every time, he surprises me. Every time, I love that moment."
Olsson is not alone. Many, many defenders thought they "had" him until, with mercurial movement, balance, intuition, touch, he fooled them. Cruyff scored 392 goals in 520 games over a 19 year career in the Netherlands, Spain and the USA. He was like a lizard darting between the rocks, 1.8 meters tall yet only 67 kilos; argumentative, domineering, sublime and targeted.
"I call this routine," he said on our first meeting, rolling down his trouser leg to show show five bruises and cuts from his game the night before.
He laughed, drew on his Camel cigarette. "I have an instinct to do wrong things," he continued. "The coaches said you must trap the ball with your foot, but if you do that, you have stopped it, lost momentum."
The most wrong thing he ever did was smoke. He kicked the habit after a surgeon told him before performing emergency bypass surgery on Cruyff in 1991 that he was three breaths away from death. Some 25 years later, Cruyff died of cancer of the lung.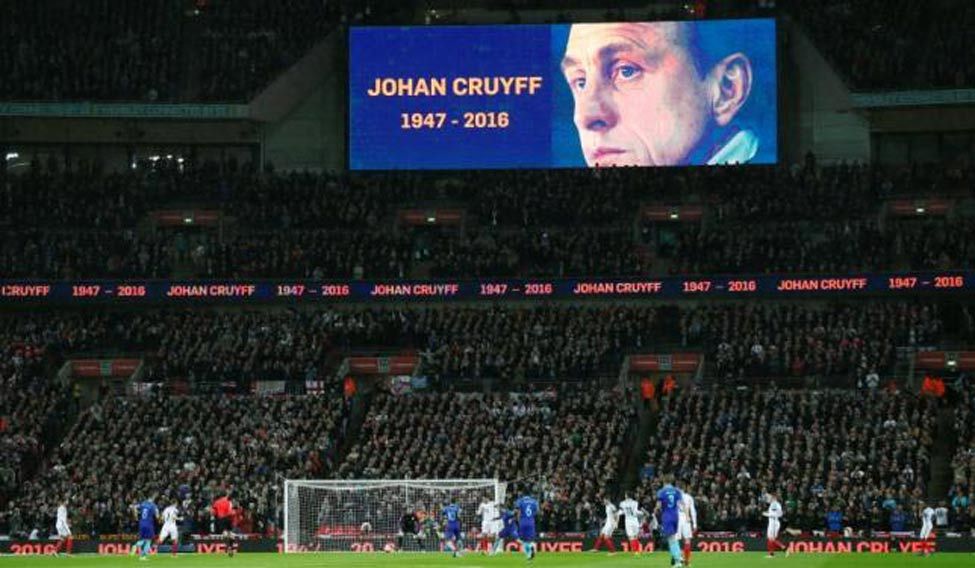 A tribute is displayed on a big screen in honour of Johan Cruyff during a friendly match between England and Netherlands | Reuters
He hadn't wasted much of that life. During our series together, he surprised me by taking out a video recorder in his home (before video recorders were on the market) and playing back tapes of the way that Germany's Gerd Müller scored goals despite being short, stumpy and not very fast. And the way that Brazil's Roberto Rivaling bent free-kicks as if by laser control, or that Kazimierz Deyna pulled the strings for Poland . . .and so on.
Sixteen teams in the tournament, 16 Cruyff tutorials for this writer. And when the video didn't capture his point, he used the cutlery, the salt and pepper (and yes, those darned cigarette packets) to illustrate movements. And to explain the "science" behind the rotations of players in Rinus Michels' Dutch side playing Totaalvoetbal.
Credit the coach, by all means, for encouraging this freedom to improvise. Credit, also, the colleagues who shared the field with Cruyff, and who adapted to his elusive movements. But watch any playbacks, not simply the Olsson incident, and you can only marvel at the creativity, the beauty, that was beyond coaching.
Even today, it is impossible to fathom which foot Cruyff was most likely to strike from in his prime. Right foot, left, using the front, the side, the back of the foot to make the ball dance to his tune . . .it would be like Virat Kohli suddenly, and persistently, alternating which hand he was batting with while assaulting the world's best bowlers in one of his rapid-fire half centuries.
But it wasn't all physical or mental performance. Cruyff coached (no, he choreographed) an extreme form of Total Football in his eight years as Barcelona's creative overlord. The word coach doesn't do justice to it. He taught a philosophy, which had to come from the kindergarten of La Masia school.
The Amsterdammer who chose the streets for his own education went on to create his own Foundation which, among other things, recreates the street environment in laying down artificial pitches in deprived inner-city locations around the world. Pitches screened off from the dangers of traffic, haven in the mayhem of overcrowded environments designed to let kids be kids. With a ball, of course.
Another side of the Cruyff legacy is the Cruyff Institute. It started with a business academy in Barcelona, and now has academies on three continents teaching diplomas in sports finance and management. Johan Cruyff admitted to me once that he was not academic enough to take the entrance exam for his own institute - yet he, the street kid, was not simply the inspiration for a much needed education in how sport is run, but very much the innovator behind its ethos.
"Quality without results is pointless," he once said. "Results without quality is boring."
Dare I suggest that there is an element of Mahatma Gandhi about Johan Cruyff? Maybe that is going too far, but Pep Guardiola says of his mentor: "Johan Cruyff painted the chapel, and Barcelona coaches since merely restore or improve it."
In the four days between Cruyff dying and his funeral, some 50,000 people filed past a memorial at the Nou Camp stadium in Barcelona. They filled 20 books of condolence which were handed to his son, Jordi, named after the pattern saint of Barcelona and Catalonia. "We understand," said Jordi Cruyff, "that Johan is not only ours he belongs to the whole world."
A player, and now a sports director, but not like his dad. Jordi was there the night that 99,000 Barça supporters made a mosaic in claret and amber and blue which spelt out: "Grácies Johan"