The dope shame has shaken the country again even as the Indian contingent in Rio is gearing up to win medals and hearts at the Olympics. Grappler Narsingh Yadav and shot putter Inderjeet Singh have been tested positive for banned drugs, reiterating that the grip of doping monster on Indian sportpersons hasn't loosened a bit. National Anti-Doping Agency (NADA) records suggest that on an average, as many as 100 athletes are tested positive and banned for using performance enhancing drugs. It comes as no surprise then that India is among the toppers in the World Anti-Doping Agency's (WADA) doping blacklist.
As the doping debate rages on, let us take a look at five of the infamous doping cases in the country.
Anil Kumar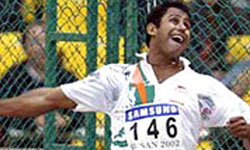 Anil Kumar | via India Netzone
A promising discus thrower, who strode up to the podium at the Asian Championships in 2000 and the Afro-Asian Games in 2003, Anil Kumar faced disgrace when he was tested positive for Norandrosterone—a substance banned by WADA. He had earned medals at 1998 Asian Game in Bangkok, Thailand, and 2002 Asian Games in Busan, South Korea. Kumar was disqualified from the 2005 Asian Championships in Incheon, South Korea, and was stripped of the bronze medal he had won at the championship after he was found guilty in 2007. He faced a two-year retrospective ban from September 2005 to September 2007.
Ashwini Akkunji
Ashwini Akkunji | via PTI
Podium finishes at 2010 Delhi Commonwealth Games in 4x400 m relay and 2010 Guangzhou Asian Games in both 4x400 m relay and 400 m hurdles catapulted sprinter Ashwini Akkunji to front pages and fame. But disgrace followed soon. She was tested positive for anabolic steroids in 2011. The two-year cost her an opportunity to represent the country in Asian athletics championships in Japan and 2012 London Olympics. Her relay mates—Mandeep Kaur and Sini Jose—too were tested positive for performance enhancing drugs, facing a similar ban.
Seema Poonia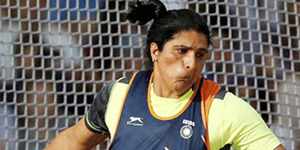 Seema Poonia | PTI
Discus thrower Seema Poonia, who is part of India's Rio contingent, had a stint with stimulants which led her to losing the gold medal she won at World Junior Athletic Championships at Santiago, Chile in 2000. She was tested positive for Pseudoephedrine—a medication for cold and a stimulant. Poonia, however, did not face a ban. The infamy was forgotten after she struck silver at 2006 Commonwealth Games at Melbourne, but caught up with her in the same year. She was tested positive for Stanozolol—a banned substance. Although she was cleared off the charges by Athletics Federation of India (AFI), Poonia chose not to participate in the 2006 Doha Asian Games. She managed to leave the dishonour behind to win the gold medal at the 2014 Asian Games and a silver at 2014 Commonwealth Games in Glasgow.
Dane Pereira
The menace of performance enhancing substance isn't limited to athletics. It has spread its tentacles into the beautiful game, tainting the career of former Mumbai FC player Dane Pereira. The midfielder was tested positive for Nandrolone—an anabolic steroid—in 2015 in a random dope test conducted by NADA. The test was conducted, adhering to the rules of Asian Football Confederations (AFC) which are implemented by the All Indian Football Federation (AIFF) in the I-League. Pereira, who faced a one-year ban from April 2015, is all set to make a comeback.
Pradeep Sangwan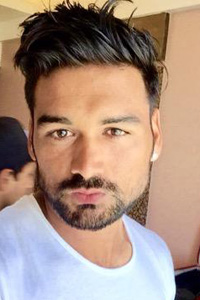 Pradeep Sangwan | via Twitter
The gentleman's game too has its own share of doping woes. Pradeep Sangwan, a medium pacer who was deft with the bat as well, was handed an 18-months ban after he was found guilty of consuming a banned anabolic steroid. Sangwan was part of the U-19 World Cup which went on to win the cup in 2008 and had represented Delhi in Ranji Trophy before being roped into Kolkata Knight Riders squad in 2011. The cricketer was banned from BCCI-organised events from May 6, 2013 to November 5, 2014 after he was tested positive for Stanozolol—a prohibited steroid—during IPL 2013. BCCI's Anti-Doping Tribunal refused to buy the pacer's claim that he consumed the banned substance accidentally after his gym instructor told him that it would help in fat reduction. BCCI follows its own anti-doping procedures as it does not come under WADA and NADA.