Olympic medalists Abhinav Bindra, Sushil Kumar and MC Mary Kom and Karnam Malleswari were among 14 former sportspersons appointed by the Ministry of Youth Affairs and Sports as Government Observers. With this, the government has reintroduced the system of appointing its nominated observers to various competitions and selection processes in the priority and high priority sports. The tradition was discontinued a few years ago as it was found that most of the observors were acting like rubber stamps, giving approval to whatever their federations decided, and even if they sent an adverse reports, the federations, citing autonomy, ignored those observations. 
Sprint queen P.T. Usha and long jumper Anju Bobby George have been chosen as observors for Athletics while Somdev Dev Burman who recently retired as active player was made Observor for tennis. The former Davis Cupper has had his share of run-ins with the federation and has been quite vocal of his views albeit in public space. 
In shooting, India's lone individual Olynmpic gold medalist Abhinav Binbdra has been assigned the role of the Observer. Bindra is already in multiple committees set up by Sports Ministry like the Olympic Task Force, Sports Code review committee and the Target Olympic Podium Scheme. 
It will be interesting to see what views Double Olympic medallist Sushil Kumar will have of various selections and performances in Indian wrestling. He had taken the Wrestling Federation of India to court over his non-selection ahead of Rio Olympics. 
Akhil Kumar who recently turned to professional boxing will be the government observer for boxing while Aparna Popat, former badminton player, has been assigned the role in Badminton. Olympian and commentator Jagbir Singh will be the government observer in hockey.
In a statement issued on Monday, the Union sports ministry stated, "The National Observers will assist the Government, Sports Authority of India, and National Sports Federations (NSFs) concerned including Indian Olympic Association in the preparation and implementation of the long term development plan with respect to high priority and priority sports covering all aspects including selection policy, quality specifications for National Camps, long term athlete development plan, coaching development, development of technical officials and monitoring and evaluation of athlete performance."
In an additional role which was not there earlier, the ministry decided to give these athletes an advisory role also. It said the government would consult these former athletes on broader issues related to sports development too. "Apart from providing inputs for their respective disciplines, the National Observers would also to be consulted as a group on crosscutting issues impacting sports development in the country. The National Observers would be playing a key role in implementation of action plans for Mission Olympics 2020, 2024 and 2028," said the statement.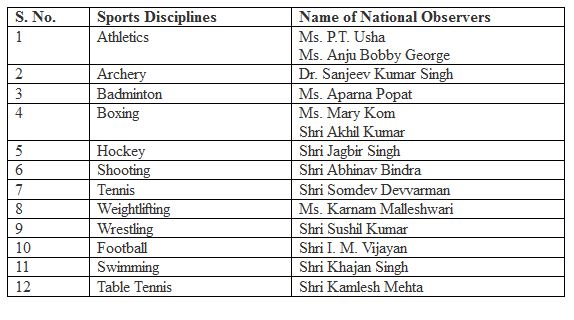 Image source: PIB