Alcohol, especially beer, is the worst enemy of fitness enthusiasts. Trainers are never tired of telling eager lifters and runners about the need to stay away from beer to stay toned. Fitness, then, comes at a cost, especially if you love your beer.
Or may be not. You can have your cake and eat it too, or rather, you can have your beer and stay fit too if you are a beer mile runner.
Easy tiger, hold your horses.
It is a tough sport. Tougher than you ever thought. Beer mile is a sporting event that tests both your ability to chug quick and run fast.
The beginning
There were beer mile contests recorded in late 1980s and early 1990s, mostly on college campuses in Florida and New England. A beer mile fraternity in Kingston, Ontario, where beer races were a regular affair came up with a set of rules. As the race gained popularity, runners from across the world incorporated these rules. Thus came what is known today as the "Kingston Rules."
The rules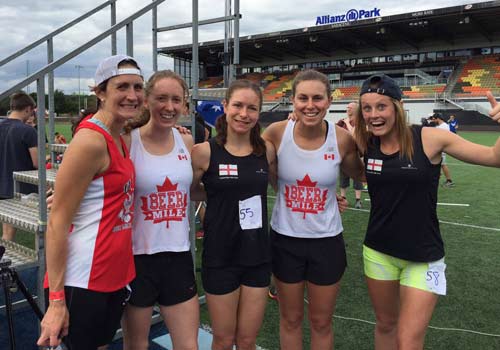 Women participants at the Beer Mile World Classic intercontinental competition in London | via Twitter
Pretty simple. Chug, run, repeat! The contestants are required to finish a 355 ml beer before each of the four laps on a 400-meter track. There is a penalty for throwing up—another lap without the beer. No special cans or bottles that may give the runners an edge are allowed. Tampering with the cans or using aides like straws are not allowed either.
The fame
From being an underground sport to being featured in some of the leading media outlets, including The Telegraph and the Daily Mail, to having the first ever intercontinental beer mile competition organised in London last week, the race has come a long way. There are races being held in various parts of the world and records being set. The inaugural race of The Beer Mile World Classic took place in San Francisco, US in 2015, and this year, the intercontinental competition was organised. If online fandom of the race is anything to go by, the popularity will only soar with more beers and laps in the days to come.
The Indian connection
Corey Bellemore | via Twitter
Okay, the game may not have reached India, but the man who created the world record of chugging beers and finishing a mile, Corey Bellemore from Canada, did something that would make Indian beer aficionados smile. Bellemore, who won the men's elite race in a record time of 4:34:35, chose Kingfisher Premium Lager as the brand meets the requirements of the race—a 355 ml beer with 5 per cent alcohol.
With millions of us guzzling down gallons of beer, may be its time for us to organise the race in India and aim towards setting some records.