The Rio Olympics concluded on August 21, after a 16-day spectacle of hard work, dedication and sportsmanship. Along with controversies, there were heart-warming moments, hilarious incidents and bizarre reactions that were widely shared and discussed on social media. Three couples got engaged, one gymnast broke his leg, swimming pools turned mysteriously green, and a group of swimmers allegedly got mugged. We take a look at seven other Olympians who made headlines and had social media talking (or laughing) for reasons other than their Olympic performances:
Runners D'Agostino and Hamblin: Never mind the glory or medals
During the 5000m marathon on August 16, New Zealand's Nikki Hamblin was midway through the race when she fell down, face forward. This caused American runner, Abbey D'Agostino, to trip and fall behind her. D'Agostino got up and helped Hamblin up too. But when they started to run again, D'Agostino fell down with a twisted ankle. Hamblin came back to help D'Agostino, who was in severe pain, to get to the finish line. Their selfless acts were hailed as the 'true spirit of Olympics'.
Korean gymnasts: Briefly uniting two warring nations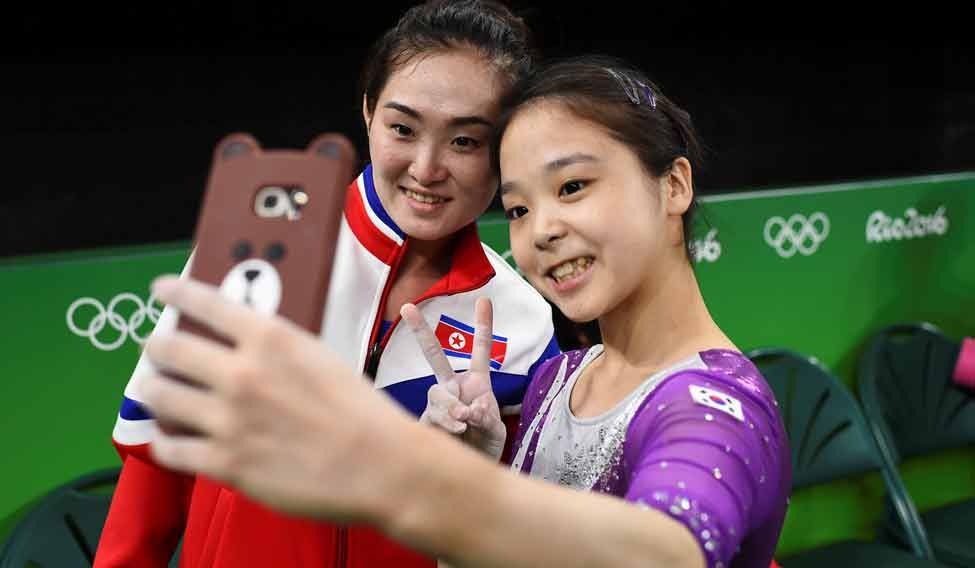 While training sessions were on, 17-year-old South Korean gymnast Lee Eun-ju approached North Korea's Hong Un-jong for a selfie. The two were seen enjoying a laugh just before the artistic women's gymnastics competition. It was widely regarded as the most 'iconic image' that represented the spirit of the Olympics.
Weightlifter David Katoatau: Dancing to save a less-known island
Weightlifter David Katoatau completed his 105kg lift with a spontaneous dance that went viral on August 16. Later, he explained that the dance was to draw attention to his home, an island called Kiribati in the central Pacific Ocean, that might soon get submerged by the ocean because of climate change. He didn't win a medal, but he did get the world's media talking about the perils of climate change.
Mongolian wrestling coaches: Stripping down to protest, but in vain
In a bronze medal play-off on August 21, Mongolian wrestler Ganzorigiin Mandakhnaran lost to Uzbekistan's Ikhtiyor Navruzov when the judges penalised the former by one point. His coaches, Tserenbaatar Tsogtbayar and Byambarenchin Bayaraa protested the judgement by stripping off their clothes, while the crowd chanted in favour of the Mongolian.
Angry Michael Phelps face: Taking the right photo at the right time
In a photo taken just before the butterfly semifinals on August 15, US gold medallist swimmer Phelps had a scowl and a glare seemingly directed at South Africa's Chad le Clos. #PhelpsFace inspired hilarious memes and tweets that had the internet going crazy. He later said that he was listening to music and being "in my zone".
Wrestler Risako Kawai: The celebratory coach-slam
Japanese wrestler Risako Kawai was elated when she defeated Belarus' Maria Mamashuk and bagged a gold in the 63kg freestyle round on August 18. So elated that she slammed her coach Kazuhito Sakae on the mat, not once but twice, before picking him up on her shoulders and doing a victory parade. Both of them were beaming throughout, celebrating Japan's fourth gold.
Sprinter Shaunae Miller: The perfectly legal dive to first place
Bahama track sprinter Shaunae Miller secured a gold medal after she dived to the finish line at the 400m finals on August 15. Nearing the finish line, Miller skipped the remaining distance with a dramatic dive, beating American Allyson Felix by 0.07 second. According to the rules, the winner is the first one with their torso crossing the finish line. She was light-heartedly dismissive of the massive social media hate that she received right after that.