Volkswagen is to leverage its newest entity in India, as the information technology services backend, for all its global operations.
"Volkswagen IT Services India" began work earlier this month from the Rajiv Gandhi Infotech Park at Hinjewadi, Pune. The IT team has a strength of 300, slated to rise to 450. The German automobile leader intends to invest 3 million euro (approximately Rs22.5 crores) into creating a tech services backbone, eventually for all its auto brands, which include Audi, Lamborghini, Porsche and Skoda.
The Pune team will handle all in-house, technology-driven processes, and help VW to gradually do away with outsourcing such services.
Says Sidharth Yadav , Managing Director of Volkswagen IT Services India: "It's a proud moment for us in India to be able to support our group companies across the globe from here; keeping in line with the 'Make in India' initiative."
The new IT services facility was inaugurated by Dr Martin Hofmann, CIO, Volkswagen AG and Dr Uwe Matulovic, head of the management board of VW Group IT Services.
The Pune unit has expertise in areas like Java, Microsoft tools , Business Intelligence, SAP etc. It will also focus on building IT mobility solutions for the group and would adapt agile, test driven development techniques, while harnessing technologies like Social Media analytics.
State-of-art plant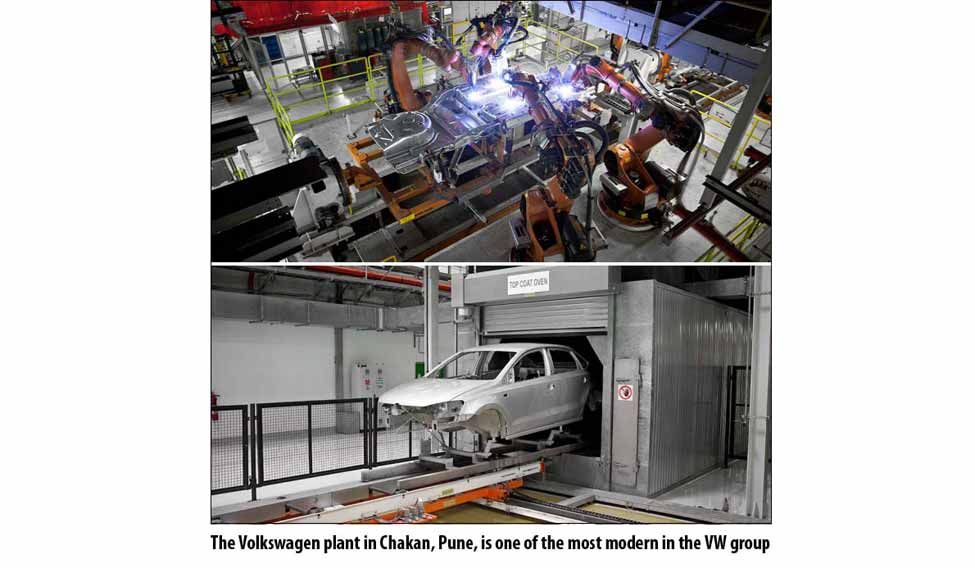 VW already runs a state-of-the-art vehicle plant -- one of the most modern in the Volkswagen Group-- in Chakan, and is a key member of Pune's burgeoning automobile ecosystem. It represents the largest investment project of a German company in India to date. With a workforce of over 3500, the plant has ramped up production capacity to over 1,30,000 vehicles a year. The facility covers the entire production process, from body shop through paint shop to final assembly. In 2015, the plant produced a total of 123,456 vehicles as well as more than 25,000 engines.
The plant at Pune currently produces a special hatchback version of the Volkswagen Polo, the Volkswagen Vento and Ameo and the Škoda Rapid. The engine unit of the Pune plant (complete with engine analysis centre) also produces the 1.5 TDI engine designed especially for India. India exported the Volkswagen Vento to 35 countries in four continents, Asia, Africa, North America and South America, from the Pune plant.