TomTom is a respected name for GPS vehicle navigation devices. Its navigation and map services fuel many products and enterprises, from iPhones—to the global Uber taxi fleet.
For its first global innovation hub, the Netherlands-based company has picked Pune in Maharashtra. The 1000 square feet facility is geared to helping its 800-strong staff transform their ideas into proof of concepts and prototypes leading to new innovations. The TomTom India team already contributes to the parent company mainly in the area of mapping and software. The Innovation Hub is expected to take this process further, facilitating a free flow of information and ideas and encouraging experimentation and cross-boundary co-operation.
The new Innovation Hub has three sections: The Demonstration area is enhanced with video projections and will offer hands-on product experience. The Experimentation area will house TomTom and other technology products for reverse engineering. The Break-Out Room provides the right ambience to cultivate new ideas. TomTom also seeks to combine innovation with social impact to give something back to society. The company also plans to partner with top technical universities and start-ups on joint projects.
"Innovation is at the core of everything we do at TomTom and we're excited to open this new facility in Pune. It's great to build on our existing R&D and innovation centres around the world. At TomTom, we believe that innovation can happen anywhere and encourage all our employees to be innovative in everything they do," says Alain De Taeye, Member of the TomTom Management Board.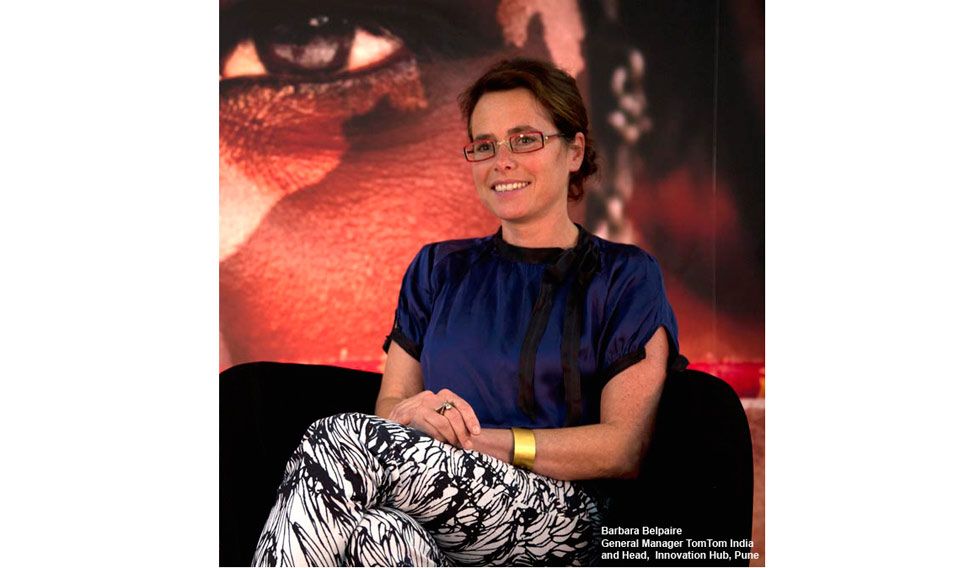 The Pune facility—TomTom's largest outside the Netherlands, has been headed since April 2015 by Barbara Belpaire, General Manager, TomTom India. "My ambition is to make TomTom India the best place to work by unlocking our in-house potential and developing key talent", she says. Barbara holds a Master's degree in Bio Engineering from the University of Leuven and Industrial Management from the University of Gent, both in Belgium. Under her leadership TomTom facilities in Singapore, China and Japan. received ISO/TS certification.
By year end, she hopes to increase the headcount in Pune to 1000. Having served in Delhi during a previous stint in India, Barbara has made Pune home—with husband Frank and sons Jasper and Ender.
India launches
In 2016, TomTom has launched 6 products in India: Portable Navigation Devices: Via and Start and wearables including GPS sport watches: Spark, Spark Cardio and Spark Music.
The Start navigation Series gives seamless navigation across 7300 cities and towns in India and does not involve data roaming costs. Spark watches come with integrated music player and heart rate monitor, making it easier for fitness enthusiasts to boost their training
At recent product launches in Germany TomTom also unveiled Vio, a disc shaped satellite navigation systems for scooters.
Founded in 1991 and headquartered in Amsterdam, TomTom has over 4,600 employees worldwide.