Cab aggregators in India have innovated to get around key hurdles
The announcement, last week by Ola Cabs that it was no longer essential that customers have an Internet connection to book a cab from their mobile phones, is only the latest innovation flowing from that sector of business.
Ola gets round the problem of no data connectivity on some customer handsets by a piece of typical Indian jugaad: a fall back on good SMS or text messaging.
Users can choose the option: Book via SMS. They will see a pre-entered text message requesting Ola to book a cab. On sending the text message, they will get an SMS with the particulars of the nearest available cabs across categories. On choosing their preferred cab category, they will receive driver and cab details by SMS. The driver will receive customer contact details and the GPS triangulated location of the user. If the internet connectivity resumes, the ride details, GPS tracking, SOS button, and other features associated with the ride will be available for the user on the Ola app... but even otherwise they will have their ride.

1-Tap from ixigo
Actually another cab aggregator, who works across multiple service providers --Meru, Ola, Mega, Easycabs, Jugnu—came out with its own solution a few months ago. "1-Tap Cab Booking" is an innovative feature on the ixigo cabs app, that allows booking the nearest available cab with a single tap of a button on the user's home screen.
Currently available for Android, 1-Tap Cab Bookingworks even in places without a stable internet connection, such as airports, railway stations, bus stations and even while the user is en-route to his destination.
What ixigo uses is a combination of intelligence about the user's location through existing PNR confirmations on a user's phone and SMSes. The app also intelligently prompts the users prior to their journey to the station or airport and also when they have just landed or are about to reach their destination. To know more read here.
"Hey Siri, get me an Olacab"

Meanwhile, Ola has gone another notch up the user-friendliness ladder. iPhone and iPad users running iOS 10 can simply use their voice (and the phone's smart assistant) to say, "Hey Siri, get me an Olacab" -- and their next ride will be booked. They can ask Siri to select from a range of options, including Micro, Mini, Prime and Luxe cars. They can book a ride without ever opening up the Ola app and track a ride's progress and view ride estimates and trip progress.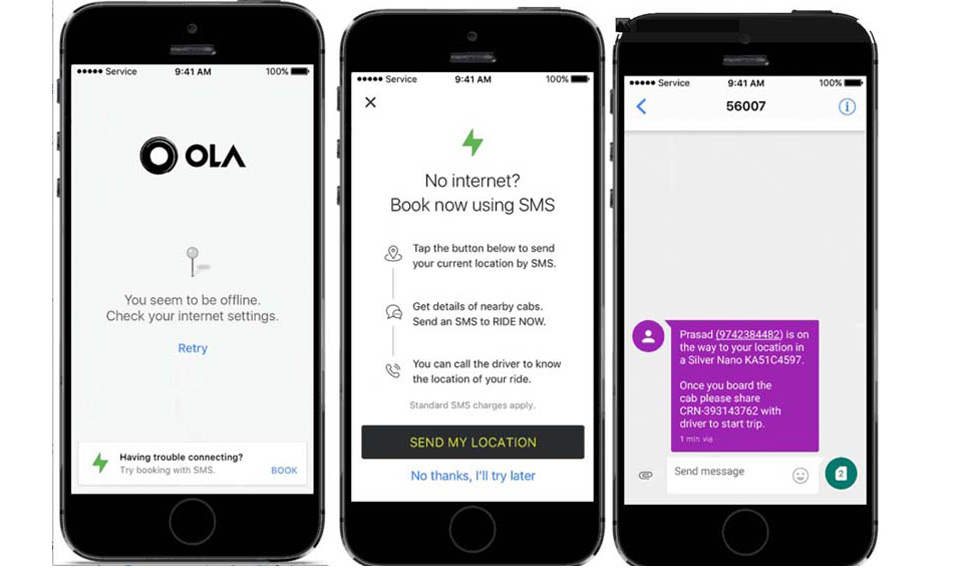 All Ola app users can now exploit a Hotspots feature: the app will proactively suggest 'Hotpots' closest to customer's location and send it to the driver in the form of text, vis-a-vis a geographical location. For example, the app can intelligently get your cab to a particular exit of your favorite mall or metro station, without having you to explain to your driver.
Another new feature-- Share Directions— is useful to give specific instructions to drivers - like knowing which apartment to ask for at the entrance of a gated colony.
Starting with Uber, many cab aggregators enable users share their trip status. They can send trip details to up to five pre-selected contacts. This makes it even easier for friends and family to pinpoint your exact location and track trip progress in real time—from start to finish.
Shubh yatra!