The latest avatar of Amazon's Kindle e-book reader is its most affordable
Appearances can be deceptive. In 2010, just a few months after its launch, I got my hands for the first time, on the Kindle e-book reader. It came with a 6-inch screen and a built-in physical keyboard, plus basic controls to turn pages.
A few weeks back, Amazon, brought the latest avatar of the Kindle to India—the 8th if I have counted correctly. It felt almost half the size of the original model—but in fact the screen size is identical. Over the yeaRsthey have knocked off the hard keyboard and substituted a virtual keyboard within the screen. That alone has shrunk the reader by a third.
In launching the latest Kindle, Amazon has swung within a few months, from its costliest e-book reader to its cheapest! When the Kindle Oasis was launched just 5 months back, it cost Rs24,000 and became unaffordable by all except the most diehard Kindle fans. The new Kindle has the same screen size —6 inches—costs Rs5999, weighs slightly more at 161 grams, offeRsthe same modest 4 GB of onboard storage, accesses the same online book store of some 3 million titles, with half a lakh of them priced from Rs100 to Rs300.
So what are you missing for a product that is effectively to be had for one fourth the cost of the Oasis? As far as I can tell — only one big feature — the built-in back light of the Oasis that lets you read in the dark. Was the Oasis worth the huge markup up? In hindsight, I would say— no. If I was spending my money, I would get the new six thousand rupee Kindle, add a clip-on LED book light for a couple of hundred rupees and feel very virtuous.
By the way, a 6-inch Kindle is more like 7 inches — if you go by the diagonal distance across the screen , which is how phones and TVs rate themselves . I like the size that Kindle has standardised on — it feels like a thin paperback book and one can easily hold it in one hand, while reading in bed, which is where I do most of my reading.
This is a WiFi model which means you can go online if you can find a hotspot, paid or free. (One must concede, the Oasis for its stiffer price, offered free Wireless Internet all over India for the life of the device).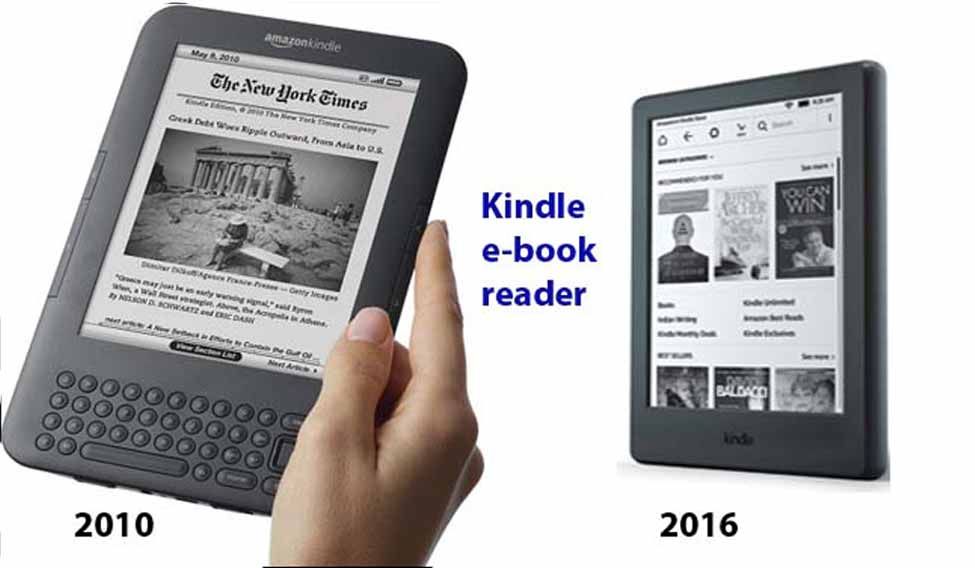 Kindle buries its general-purpose browser deep among its settings, still calling it an "experimental" browser (come on, experimental after 7 years?) and tends to nudge you unsubtly, towards its own bookshop. In fact you can't even begin to use the device till you signed up for an Amazon account —your Amazon.in online shopping ID will do.
Kindle's standard reader-friendly, font-adjusting, page-turning features which set it apart from tablets doubling as e-book readers, are all there. For the asking price, I would rate the new Kindle as the best value for money in all these yeaRsof the product. What we would call paisa vasool!