The popularity of selfies continues to incite gadget-makers to come up with the latest selfie-taking product. From a spoon to a hairbrush and even a toaster, the concept has been adapted for almost any everyday item.
Selfie Spoon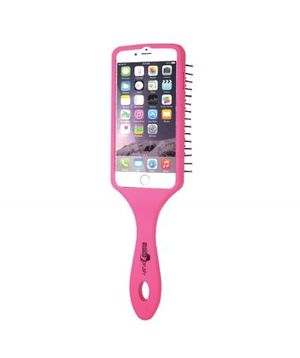 The Selfie Brush is available for US $12.99
Attaching a selfie stick to the handle of a spoon to take pictures of yourself eating breakfast may be a bizarre idea yet this is "really a thing," as the website proclaims. The product was created after General Mills, the company that sells Cinnamon Toast Crunch cereal, saw a simple marketing campaign provoke a lot of buzz. A victim of its own success, the spoon is currently out of stock.
cinnamontoastcrunch.myshopify.com
Selfie Brush
Telescopic selfie sticks for smartphones have given way to the selfie hairbrush. Shaped like an iPhone case, the product allows users both to touch up their hair and makeup and take a picture of the end result. Apart from a brush, the case also includes a mirror placed to the right of the smartphone. The Selfie Brush is available for US $12.99.
selfiebrush.com
GripSnap
First launched on Kickstarter, the ingenious GripSnap is a magnetic monopod that can be fixed to any metallic surface to snap a photo of both you and your friends at a respectable distance. Compatible with any kind of smartphone as well as a GoPro camera, the GripSnap retails for US $39.95.
Selfie toaster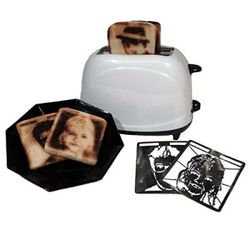 The Selfie Toaster retails for US $69.95
The selfie toaster is an amusing concept that allows you to grill any picture of yourself unto a piece of toast. All you have to do is send your picture when you order to receive a small personalised metallic plate that you can insert into your toaster. The complete kit goes for US $69.95.
burntimpressions.com
Nixie
Presented at the last CES tradeshow in Las Vegas, Nixie is a mini-drone attached to your wrist that is able to take-off into the air and film and snap pictures of its owner in a range of spectacular angles while flying. Still in the prototype phase, the product should hit the market in 2016.
flynixie.com