Indian players fuel renewed interest in bare-bones Windows 10 portables
The periodic obituaries for the laptop computer—in the face of onslaughts from tablets and phablets— have generally been premature.
The lightweight laptop refuses to die. Indeed it is seeing an unexpected revival in a new configuration. This is aimed that users who either like, or are forced, to keep most of their files and tools in the cloud. So, no DVD drive. No hard drive—only a minimal solid state storage on-board, of around 30 GB, of which about half is taken up by the preinstalled software. And being usually powered by an efficient but not terribly powerful processor like Intel's Atom series, the system comes with a day-long battery life.
The USP for this class of portable computer is that it comes with a full size keyboard. I have no use for the virtual on-screen keyboards that come with tablets and mobile phones. They may be OK for answering emails or creating short text files. But entering a text of 300—00 words by jabbing at a screen keypad that is smaller than the palm of my hand? No way. I am full of admiration of younger journalists who send all their stories from a phone. Call me old fashioned, but I prefer an actual physical keyboard, one which gives me a reassuring click and a tactile feedback with every key stroke.
I've had a detailed tryout with one of this new class of laptop—the ThinBook from Hyderabad -based RDP Workstations. The company has made a name with 'Thin Clients"—bare bones PCs which depend on a central server for drawing on a suite of programmes and applications.
The ThinBook weighs just 1.45 kg and still packs in a 10,000 mAh battery that is good for about 7-8 hours. It comes with 2 GB of RAM which is not bad, but the storage is just 32 GB. About 10 GB is already taken away by the installed software—mainly Windows 10. This can be expanded with a micro SD card of up to 128 GB. As I realised, this class of PC forces you to be always on the Internet. Only then can you store your files in a free cloud-based service like Google Drive or Microsoft's OneDrive or Yahoo's DropBox. The keyboard is full size -- which imposes a minimum size on the display: it is 14.1 inch.
If you need an Office suite, there is no space to install it on the machine. Microsoft is pushing you towards the new subscription avatar of its Office Suite Office 360—which is available on the Web, but will cost you about Rs 300 monthly in subscription.
The ThinBook has all the standard connector ports—USB 2 and USB 3; Audio out, MicroHDMI—as well as communication options WiFi and Bluetooth. The VGA camera is less than a megapixel and this seems a bit odd when they are able to pack in 5—20 megapixel cameras even on the entry level smartphones.
The upside of having very little storage on the laptop is that and shutdown is very fast. The RDP ThinBook costs Rs 9999. I would consider it good value for what you are paying—as long as you have home WiFi, or are carrying an Internet dongle for when you need to travel. This is a necessary umbilical for such new gen laptops.
In recent days, a few other options have become available in this category: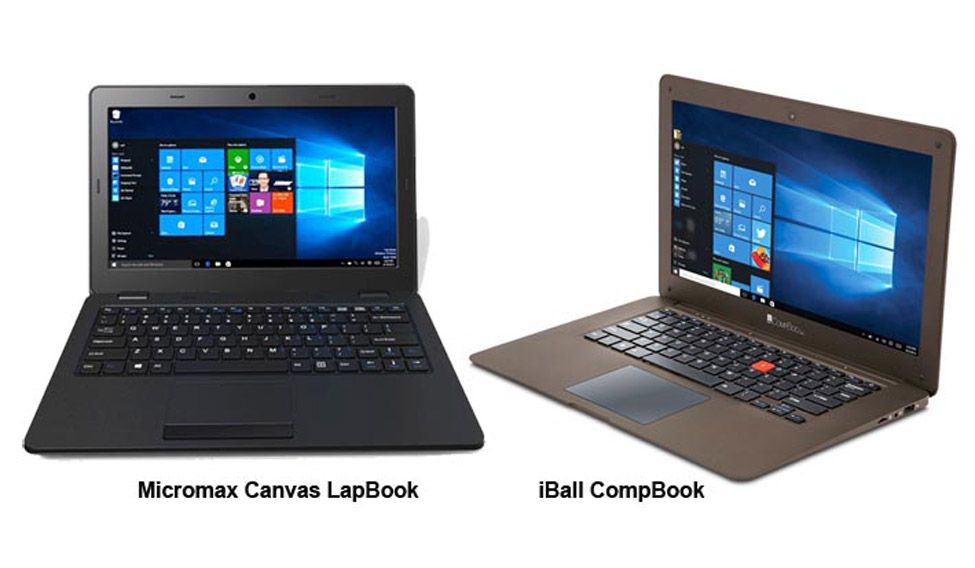 The iBall CompBook Excelance at the same price (Rs 9999) as the RDP ThinBook has a smaller ( 11.6 inch ) screen. The RAM ( 2GB) and flash storage ( 32GB) are identical as is the Windows 10 OS. At 1.1 kg it is slightly lighter but lacks a HDMI port. iBall has also launched a model— Exemplaire—with a 14 inch screen for around Rs 13,699. Other specs are about the same; the battery is rated at 10,000 mAh; the weight is 1.4 kg.
The Micromax Canvas Lapbook L1160 with similar Ram ( 2GB) and storage ( 32GB) comes with a 11.6 inch screen. It weighs a bit more ( 1.9 kg) and like the other machines mentioned in this piece, is a Windows 10 laptop fuelled by an Intel Atom processor. It has a 4100 mAh battery and costs Rs 10,499.