Smaller companies—even startups—can soon afford best-in-class cloud computing
India had witnessed a massive surge in entrepreneurial startups and small/medium sized companies over the last couple of years. If you are or aspire to be an entrepreneur, you would have realized by now that you need to devote your entire time and resources to running your core business—be it an innovative mobile app, or a news aggregator service, or a solution for a beverage bottling plant. However, the backbone of your business is powered by IT, but you do not have the financial muscle to invest in technology. Consequently your business suffers and your ambitious vision doesn't live long enough to see the light of day. A typical story of failed entrepreneurship? Not anymore.
Catering to unique business needs
Within a month or two, you can operate your IT, not out of huge server rooms, but virtual computers on the cloud. Depending on how many computers you need, you can buy compute power as you go. In case you need to reduce your IT resources after a while, you can pay less from the following month. So far, you had to buy from companies that sold you packaged solutions where you paid for services you might never use. Now, the same companies are creating products exclusively for your sort of business —at dramatically lower costs.
SAP, the global application software leader recently announced an initiative that will dramatically lower the cost of deploying cloud computing and analytics tools to your business. At its annual partner summit held in Delhi, SAP announced that as part of its partner managed cloud programme, Indian partners of SAP will now build their own application on SAP's cloud platform. It is these partners who are closest to customers, and consequently understand their unique business needs. By empowering such partners to build their own solutions, SAP is ensuring that clusters of similar business can share the same cloud.
Building bespoke solutions
Speaking on the development, Avinash Kumar Purwar, VP, Global Partner Operations, SAP Indian Subcontinent, said, "Over 8 percent of our Indian customers are small and medium enterprises, and we believe our partners can go to the grassroots and understand their unique business needs. For instance, the garment manufacturing hub at Tirupur, Tamil Nadu has small companies that serve a global customer base. They need state-of-the-art computing to power their business. Our partners will be able to build a bespoke solution for them at affordable cost, unleashing the power of cloud computing. Our cloud computing platform—SAP HANA—can be customized to their needs and as they grow, they can invoke more computing power on demand. Our latest partner driven cloud initiative opens up newer avenues for industry clusters, and smaller companies to embrace world-class technology at affordable prices."
Key regional partners who were recognized at the recent SAP event include: vCentric Technologies, Larsen and Toubro Infotech, Sonata Information Technology, Infiniti Techlabs, Cloudway Consulting and John Keells Holdings.
The cloud is no longer something that is meant for the big guys with multimillion investments in IT. Even your own startup can get on to the cloud and enhance your computing horse power.
Tirupur showed the way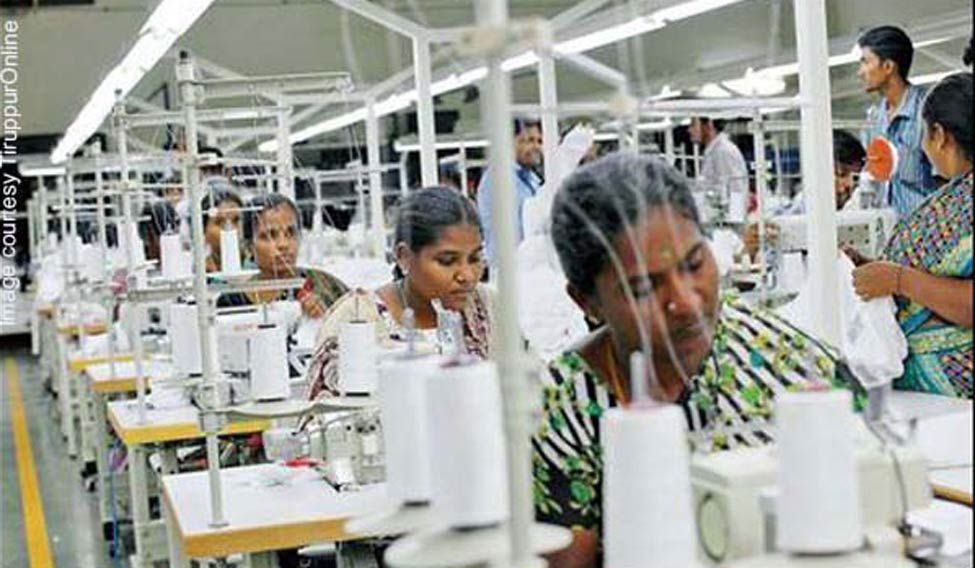 Anand Parthasarathy explains how south Indian garment makers might have a taught SAP a thing or two about pooling resources.
A few years ago, I had the opportunity to visit, Tirupur, near Erode in Tamil Nadu, India's cotton garment and hosiery capital and contributes about 45% of total knitwear exports from our country ( just as Ludhiana is the capital for woollen garments and contributes the balance). The knitwear exports from Tirupur has grown rapidly from less than Rs.10 crores in 1984 to Rs.11,000 crores in 2006-07. In 2014-15, Tirupur exports recorded Rs.20,730 crores in 2014-15.
Tirupur is known for its cluster pattern, with each stage of the processing of garment making being carried out by different units: knitting units, dyeing and bleaching units, fabric printing, garmenting, embroidery, compacting and calendaring.
A. Sakthivel, President, Tirupur Exporter's Association ( TEA) which numbers some 960-plus members took me to a leading exporter to the European Union: Jupiter Knitting Co., which was one of the early adopters of SAP's Enterprise Resource Planning software in the town. Indeed the company's clients—leading UK supermarket chains like Littlewoods and Tescos and big importers like Mothercare—mandated that the entire supply chain had to be automated so that it could dovetail with their global sourcing.
In those days the minimum cost of running SAP's Customer relations and supply chain app was Rs 80 lakhs—a big sum for Tirupur's businesses to fund singly. Jupiter cannily joined another unit— Network Clothing Company (NCC) whose work complemented its own and together they could afford to install SAP for their combined benefit.
It proved to be a vital element of their success. To meet the requirement of one Mothercare baby gift pack order, NCC had to ensure that 3 different fabrics, in 3 colours, with 50 separate accessories were all available and flowing smoothly on to the assembly floor. A shortfall in any one item—and the entire schedule would have had to be reworked. ERP ensured that no such disaster happened.
Tirupur's exporters realised early on the benefits of such enterprise tools to ensure the met their global obligations. They also realised the value of the motto: strength lies in numbers—when it came to harnessing IT tools.
So in a sense, the recent initiative of SAP through its partners, to let smaller small and medium enterprises combine to harness the web, is the result of lessons learnt through their early engagements at Tirupur!