With 70 per cent of the Indian population unfamiliar with English, multi-languages is a must for apps to hit the big numbers. Yahoo is just the latest..... mobile browsers like Opera have also gone down that route to grow their India presence
Language capabilities are one of the biggest barriers for internet adoption, causing unfamiliarity with or discomfort in using digital technologies. This is especially widespread in markets like India where according to a study by BCG, , more than 70% of the population does not use English as their primary language.
That may explain why global Internet-driven companies, have come out with India-specific, mostly multi-language variants of their flagship products.
The latest is Yahoo. The parent company may be in the news for its corporate troubles -- but YahooMail continues to be a favourite email client for lakhs of Indians.
Last week, the mobile version for Android devices has extended support to seven new Indian regional languages: Hindi, Gujarati, Bengali, Tamil, Telugu, Kannada and Marathi.
With this update, Indian users whose language setting on their phone is set to one of the seven Indian regional languages mentioned above will automatically experience Yahoo Mail in their preferred language.
Additionally Yahoo Mail app on Android has added some new features that are fully compatible with the new Android 7.0 Nougat verson:
Multi-Window View: Users can use Yahoo Mail side-by-side with other apps. When you're composing an email in Mail, you can reference the article you just read, and more, all without having to switch between apps.
Quick Actions: Now, directly reply to a message right from a notification, without having to open the app. You can also now quickly view and dismiss bundled notifications, or, archive, delete, star, and more on each notification individually.
The new features are now available with the latest version (5.10) of the Yahoo Mail app from the Play Store.
Link to download Yahoo Mail for Android
Opera Mini browser in 13 Indian languages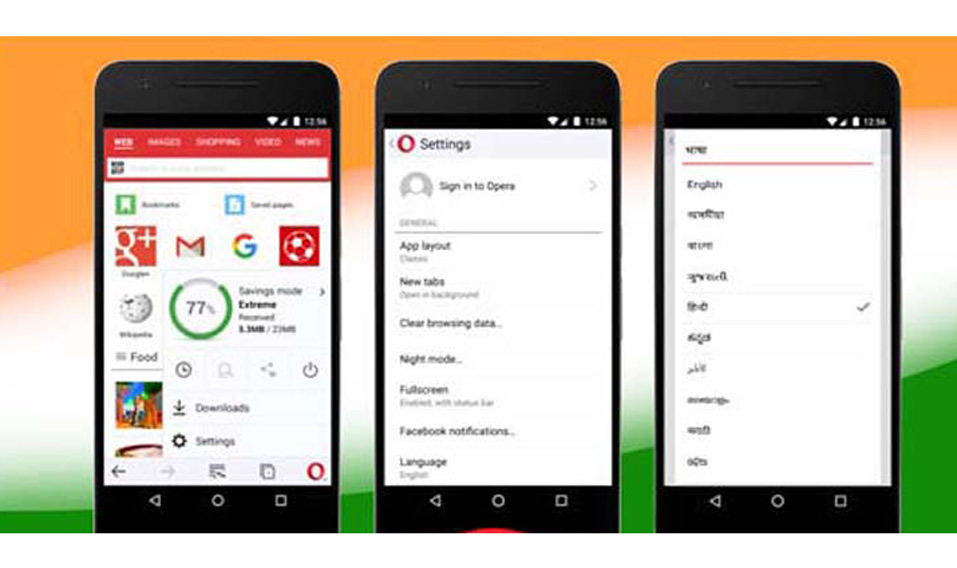 Opera Mini, the portable version of the Independent browser from Norway, has most of its Android baser of over 100 million in India. Earlier this year, Opera Mini extended support to 13 Indian languages: Assamese, Bengali, Gujarati, Hindi, Kannada, Kashmiri, Malayalam, Marathi, Oriya, Punjabi, Tamil, Telugu and Urdu.
Globally Opera supports 90 languages. users can choose from the list of 90 installed languages. The most common languages in a person's country will be shown in top of the language list in the settings menu. Users will also be prompted to select a language the first time they use the updated version of the browser.