'Rio 2016' was a crucible for new technologies that will ensure that the next winter and summer Olympics, are safer, fairer, more enjoyable.
The Rio summer Olympics are over. The Rio Paralympics start on September 17—and preparations are already in full swing for the 2018 Winter Olympics in PyeongChang, South Korea and the 2020 Summer Olympics in Tokyo, Japan.
Learnings from Rio as well as new technology deployed for the first time at the recent Games, will impact how these upcoming events are conducted, in an increasingly Internet-and-cloud-connected world.
We bring you multiple perspectives from the tech experience at Rio:
Thank you Big Data, for a disease-free Rio!
The last fortnight have seen the best of sporting talent from across the world, battle it out at Rio. India will continue talking about its silver and bronze ladies for some time to come. Every participating country will talk about its heroes. But Brazil will heave a sigh of relief. Make that specific: Brazilian health officials, who have successfully battled the challenge of the Zika virus, a threat that was looming in Olympian proportions.
Before the games began, a realistic estimate of a million people were expected to descend upon Rio for the summer, a large enough number to send shockwaves all across Brazil. After all, it was a country that witnessed a serious outbreak of the Zika virus, just a couple of months ago. A few athletes dropped out and many others were concerned about contracting the virus. Towards middle of the season, Indian wrestler Babita Kumari developed high fever, only to be tested negative to Zika.
Brazil's battle with the Zika and its imminent victory has been possible only with clever use of technology, especially Big Data and Analytics that provided the right data, at the right time, in the hands of the right people.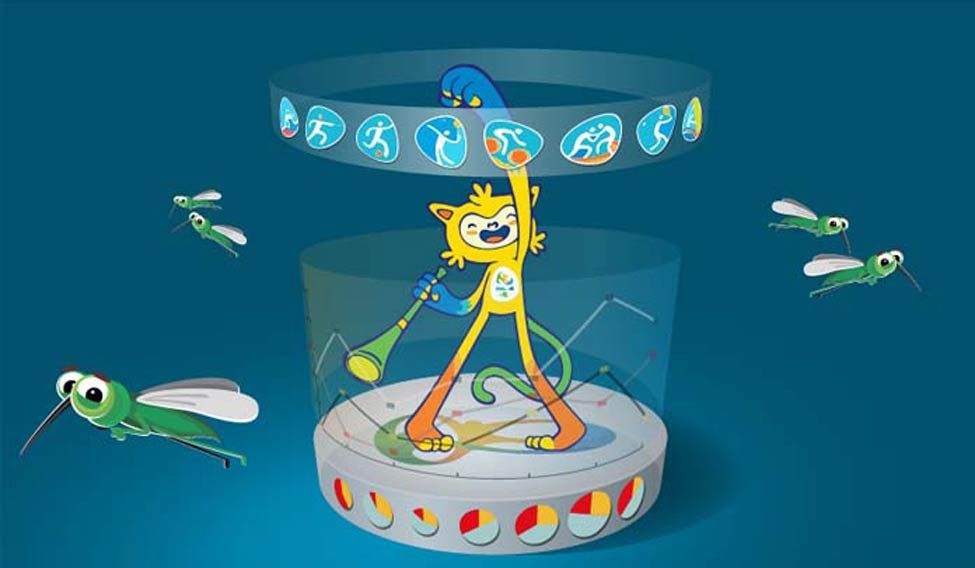 IBM was instrumental in helping the organizing committee to crowd-source data from social media, such as organizing and arranging huge amounts of online data, including the frequency and distribution of social media comments and conversations about Zika and other viruses. IBM used its cloud computing backbone to analyze Portuguese-language Twitter postings about the virus as well as GPS-enabled data around the prevalence of the Aedes aegypti mosquito, which spreads the Zika virus. All of this data was synced up with other auxiliary data like weather, location of airports around Brazil where potential Zika infected people are quarantined, and other high-risk areas to identify outbreaks, earmark high-risk areas and prevent probable infection to athletes as well as the global audience that descends on Rio.
The involvement of IBM will continue beyond the Olympics with an upcoming "hackathon" in Brazil where programmers will work on new apps, for example, to enable citizens to report sightings of mosquito larvae or local virus outbreaks to public health officials.
For now, all we can say is, Thank You Big Data for keeping the bugs away! (from the author's blog at Edureka.co )
Feeding 8 billion devices world-wide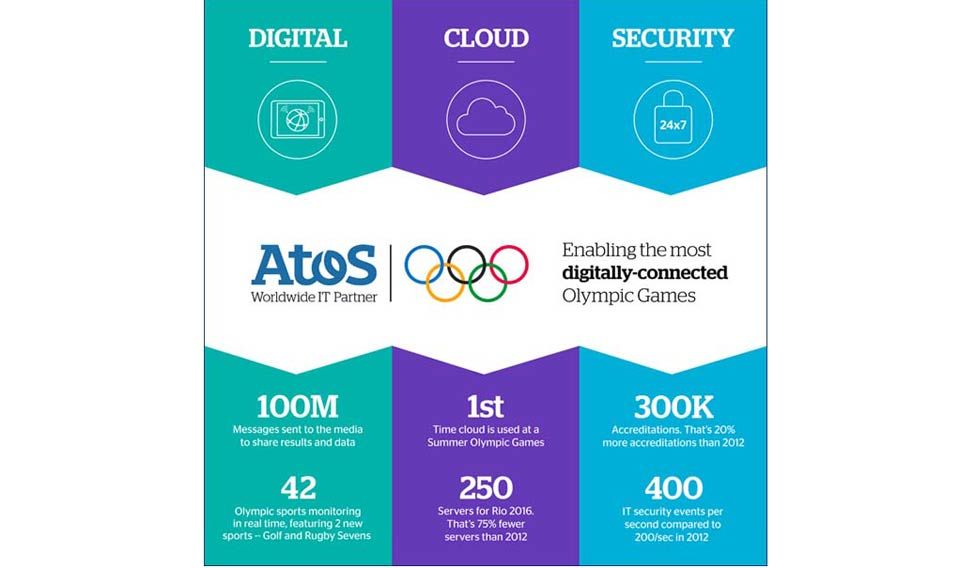 Atos, the official Infotech provider and IT backbone, for the Rio Games, has this feedback from its work at Rio:
Real-time data analytics for safety and security
The Games are an iconic security target. At peak, Games systems hold the most critical personal data in the world. And with more information becoming freely available to users via the internet and on their own device, the more daunting is the increase in IT security 'events'. Based on experience from recent Games, Atos saw over 200 IT security events per second in Rio, most of them irrelevant warnings. This is not just not manageable: screens would be flickering all day long. So they needed to be reduced to 10 to 50 that are real. Using real-time data analysis tools, a set of rules searched through the millions of security logs generated every day. They were tracking nearly every hint of digital activity within the Olympic Games network, ensuring zero impact on the Games. Getting real value from that data required a new approach to business analysis and intelligence: new tools and competencies, and new innovative technologies that managed the volume and variety of data, real-time.
Enriching the consumer experience
Real time results were processed and transmitted to 8 billion multiple devices worldwide. With the use of new media and digital technologies, the Olympic Games were superbly positioned to go a step further, reaching a global audience and provide fans with even more engaging and comprehensive content, wherever they are, whatever device they use. Atos used innovative technologies that gave viewers of live sporting events real-time results, statistics, biographies and social media conversations. Content was at the fingertips of the fans: Anywhere, any device, real-time!
The Olympic Games are a perfect fit for cloud computing—but one cannot rely on a standard, shared cloud solution. The scale and intensity of its operations make a secure, dedicated, agile cloud infrastructure essential. Atos will use its affiliate Canopy, with EMC serving as its delivery partner, for scalable cloud-based services and Infrastructure as a Service to transition most of the critical IT services provided by Atos today into the cloud for the Pyeongchang 2018 Olympic Winter Games
Outlook: cloudy!
Sai Natkar, Business Analyst at ESDS Software Solution, Nashik posted a study of Rio technology on Slideshare:
For the first time in history of Olympics, the Games used Cloud technology to manage its IT services and other operational activities. Main systems include sports qualification, Human Resource activities, volunteer support and medical support were delivered via cloud technology. The total IT budget for Rio 2016 was $1.5 billion and this time, all systems related to management of the Game from HR to sports entries and qualifications were in the cloud, reducing the number of servers from 1,000 to 250.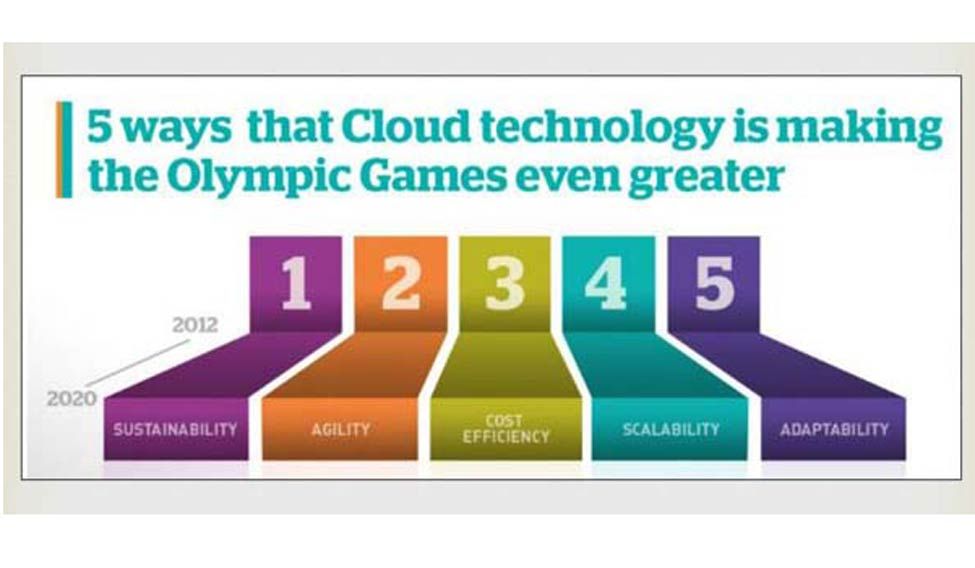 In Rio, sensor systems were used in nearly every sport so that in-venue spectators, viewers and supporters could judge for themselves whether the athletes are higher faster and stronger than before. This includes everything from smallest measurements for archery and shooting competitions, laser findings for golf, intelligent nets for volleyball and real-time measurements for coaches and trainers. (Viewers might recall that an appeal by Sindhu in the badminton finals was settled in her favour only after technology overcame the linesman's human error.)
An IoT Olympics: The City of Rio harnessed Internet of Things (IoT) is to help totransform the Porto Maravilha region into an innovative and creative industry hub by turning the entire area into a living lab. Fifteen smart services were rolled out, allowing citizens and visitors to connect and engage with the services of a smarter city.
Other technologies tried in Rio:
Near Field Communications technology for contactless mobile payments is gradually becoming mainstream with many new phones now embedded with NFC. Visa PayWave advertisements ( "Wave to Pay" ) have started appearing in the Indian media. The RioGames provided the first big opportunity to try out the solution as a wearable technology. Over 3,000 persons including athletes, artists and journalists were given rubber waterproof bracelets to pay for goods and services inside the Olympic venues at over 4,000 payment terminals. Visa, sponsored 45 Olympic athletes who wore an NFC ring, embedded with a Gemalto microchip, which they used for payments during the Games.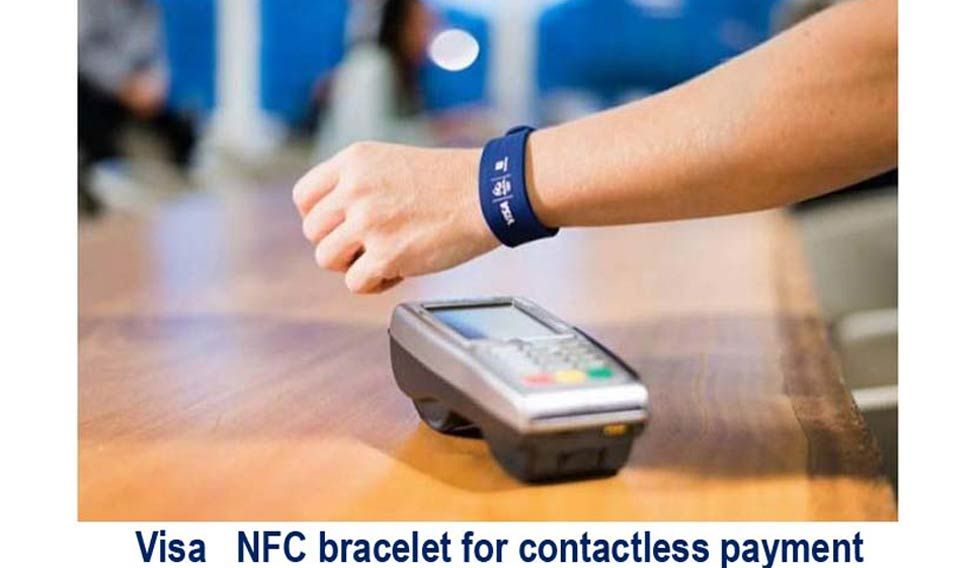 Photofinish technology
When the difference between gold and silver comes down to ever decreasing margins, the timekeeper, becomes a crucial player. An innovation at the Rio Games was the photo finish technology by Omega. The cameras captured images of athlete as soon as they cross the finish line. The latest version of the technology, using the camera Scan 'O' Vision Myria, captured around 10,000 digital photos in a vertical line per second.
So, on to Tokyo 2020, where 'faster, higher, stronger' may be driven by a new Olympian motto-- techier!