Beyond those narcissistic  images of yourself,  there's a new, more meaningful application
The  lure of the selfie shows no sign of  satiation.  Our obsession with capturing images of ourselves, against significant backgrounds or in the company of celebrities, is seeing  over 17 million selfies  uploaded every week on social media sites.     This  is made easier every day by  phone makers  pandering to our craze with selfie-optimised handsets where the tail often  wags the dog -- pixel-wise. The front or selfie camera is as good or better than the main or rear camera.   ( see review: Oppo F1S).  A phone like Samsung  Galaxy 6 Edge Plus throws in a host of special filter to make your selfies look better than your mirror led you to believe.   Remember,   when getting into  your own  photo, involved  setting the self timer on the  camera (fitted  on a tripod), then   racing to join the group,  before the shutter clicked. If you didn't have a timer on your cheap use-and-throw camera, you  thought  nothing  of  handing over  your camera  to a fellow tourist to click that keep-sake image.   Few minded,  if asked -- and you got that precious image with you and  your companion,    with the   the TajMahal or   Gateway of India or  Howrah Bridge in the background.  All this is so passe. Now,  you whip out your phone,  hold it at arm's length (or latched on to a selfie stick),  click on the front camera -- and  do-it-yourself:  The result:  millions of  skewed, distorted  images of people grinning like  mad, which  transit within seconds from phone to Facebook  or are distributed via Whatsapp. The selfie summit seems to have been  the moment during the 2014 Academy Awards  when  over  2 million re-tweeted the photo of the group of stars captured by Oscar Night  host  Ellen Degeneres.  If only Bradley ( Cooper)'s arm was longer!",  Ellen  lamented  when she  could get only  12 actors in the picture.  She should have done what any selfie-addict would have done -- used a selfie stick. Sick with selfie! Selfie mania has given rise to a new class of ailment: 'Selfie elbow',  similar to "tennis elbow," a condition in which you experience inflammation in the tendons that run along your arm from your hand to your elbow. This occurs because  inveterate selfie takers,   extend their  arm to full stretch, while  trying to keep a firm grip on  their  phone. Don't rush to the doctor:  Selfie elbow can be cured with a bit of ice on the affected part, followed by a brisk massage.   In fact,  there could be  more to selfies than  social media vanities!  They  can be an effective tool for  identification -- doing  away with passwords, or  finger print scans, to  protect your phone.  It can even be alternative to verifying a credit card holder's online identity. And since the selfie is captured live, there's less chance for fraud.   French mobile security firm Morpho, used  this year's Mobile World Conference in Barcelona to  unveil  selfie-based  facial recognition technology, which uses the built-in camera of a phone or tablet,  to  enable secure account access.  And since Samsung  has come on board as one of the earliest to deploy  Morpho technology, we can expect to  be offered the option quite soon on their  devices.
Now,  order  a 3-D selfie!
Pune-based  3-D scanning and printing company, TwinMe  has launched an innovative  extension to selfies, to create  scaled-down solid figurines of yourself,  members of families or   even your pets. Your TwinMe is created using digital scanners, proprietary software and  3D printers aided by  their team of visualizers, sculptors and engineers. The 3D Scanning takes less than 15 minutes of your time. 3D image processing takes upto 2 days. 3D printing and finalization takesa day more. Once your TwinMe figurine is ready it is shipped and delivered at your doorsteps within 7-15 working days.  Says TwinMe CEO Tushar Ganage: "These striking figurines raise the future of selfies and photography to a different pedestal. They capture everything to the last detail – from facial expressions to folds in clothes, these are incredible realistic. These models will not only make for lovely keepsakes but also a great gift for your loved ones."
"This is  photography 3.0" , adds Jitesh Ganage, CTO of TwinMe: "This  is taking  take the Selfie game to next level,"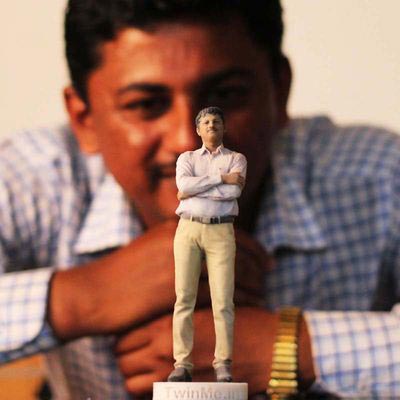 TwinMe  is based  in  Bhosale Nagar,  Range Hills, Pune and you need to visit their studio to have your physical details recorded by prior appointment on phone  (91- 7620763039) .  But the company has already conducted camps in camps in Gurgaon and other places to  cater to local customers. It will shortly open   permanent centres  in Mumbai -- and London  -- before expanding to other cities in India.