Punjab has a very intense and unique relationship with the  armed forces, and to be a fauji is a matter of pride in the border state.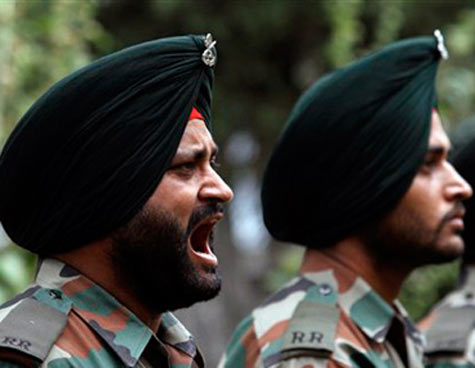 Representative image | AP
That relationship will go a notch higher on Sunday, with the inauguration of the Punjab State War Heroes Memorial and Museum in the border district of Amritsar. Punjab Chief Minister Parkash Singh Badal will dedicate the museum to the nation in the presence of  gallantry awardees including  Marshall of the Air Force, S. Arjan Singh.
The memorial and museum will showcase the supreme sacrifices made by Punjabis in the armed forces and simultaneously showcase the gallantry of all the bravehearts of the country.
Spread over seven acres on the Amritsar-Attari road, a 45-metre high stainless steel sword forms the central edifice, conveying to the world the strength and courage of the people of the state as they fought to defend the motherland.
Names of about 3500 martyrs are inscribed on the memorial.
Badal, whose pet project is this memorial and museum, believes that the heroic people of Punjab have never shied away from their duty of serving and saving their motherland, come what may. Every section of society has contributed to this as Punjab is the sword arm of the country, and has been on the invasion route to the heart of India from the beginning of recorded history.
The museum with eight galleries depicts the theme from the times of  Guru Hargobind Singh, the sixth  Sikh Guru, till the Kargil war of 1999.
Among the stars on display will be the Sherman and Patton tanks captured during the 1965 war.