In a great relief to the Uttarakhand Congress and Chief Minister Harish Rawat, the Supreme Court on Monday refused to strike down a high court order barring the rebel MLAs from voting in the floor test to be held in the state Assembly on Tuesday.
Issuing notice to Uttarakhand assembly speaker, the apex court bench comprising Justice Dipak Misra and Justice Shiva Kirti Singh directed the next hearing of the matter on July 12.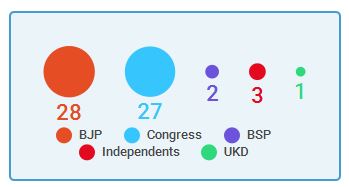 After excluding the nine disqualified MLAs, the Assembly has an effective strength of 61 members and Rawat will now have to prove the support of only 31 lawmakers.
Earlier in the day, the high court dismissed the plea by nine disqualified MLAs, led by former chief minister Vijay Bahuguna, who had challenged their disqualification by the speaker under the Tenth Schedule of the Constitution providing for disqualification on account of defection.
"This court, subject to scrutiny of Speaker's action on the principles of natural justice, therefore, holds that the ingredients of paragraph 2 (1) (a) of the Tenth Schedule of the Constitution are met against the petitioners.
"By their conduct, it has been established that they have 'voluntarily given up membership of their political party', even if they have not become members of any other political party," Justice U.C. Dhyani said in his 57-page judgement.
The Congress welcomed the SC order with party leader Indira Hridayesh saying they have got justice from both high court and supreme court.
The Supreme Court had on earlier directed Rawat to take the confidence vote on the floor of the House on May 10.
The state has witnessed a political and legal turmoil after President's rule was imposed in the state, citing a sting operation which shows acceptance of bribes by senior leaders in the Congress. After a huge uproar over the issue, Congress approached the Uttarakhand HC, which went on to quash the President's rule in the state.