At a time when O.Panneerselvam and Chief Minister Palanisamy-led factions of the AIADMK are trying hard to reach a truce, a Facebook post by one of Sasikala's nephews has gone viral in social media. The post had a created flutter among the AIADMK party men, particularly the OPS camp, who had been continuously demanding an in-depth probe to end the mystery in Jayalalithaa's death.
Jeyanandh Dhivakaran, son of Sasikala's younger brother Dhivakaran, is one of the prominent young faces in the family. In his post on April 7, the day of IT raids at health minister Dr C.Vijayabaskar's house, when the political heat in Tamil Nadu reached a feverish pitch, asked, "What if the videos of discussions between Amma and Chinnamma are released? If so what can be done to this P.H.Pandian, Manoj Pandian and O.Panneerselvam who demand an enquiry?"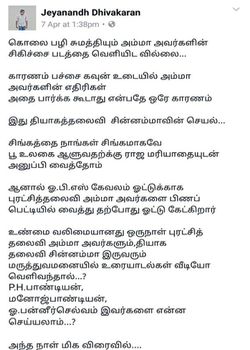 Jeynanandh Dhivakaran's Facebook post
In a post written in Tamil, Jeyanandh says, "The pictures of Amma in hospital was not released....The reason was that the enemies should not seen her clad in a green hospital gown....this is the work of Thyagathalaivi Chinnamma (sacrificing leader Sasikala)....We sent the lion as a lion to rule the heaven with all the kings respect....But OPS, just for the sake of votes, paraded our Puratchi Thalaivi Amma in a coffin....Truth is more powerful....If one day, the conversation between Amma (Jayalalithaa) and Chinnamma (Sasikala), while in the hospital, is released, what can P.H.Pandian, Manoj Pandian and O.Panneerselvam do...That day is not very far."
Jeyanandh, like others in the family, was not active in politics. His father Dhivakaran, Sasikala's younger brother, though, was one of the 12 in the family who were expelled from the party by Jayalalithaa in 2012.
Reportedly, Dhivakaran is very close to Sasikala and was seen next to her on the day of Jayalalithaa's funeral at Rajaji Hall in Chennai.
Dhivakaran had earlier claimed that he was with Jayalalithaa, fighting to get back the two leaves symbol in 1988-89 when it was frozen (the AIADMK split into 'J' faction under Jayalalithaa and 'Ja' faction under MGR's wife Janaki Ramachandran). In fact, a few days after the death of Jayalalithaa, a few old pictures of Dhivakaran, seen along with Jayalalithaa in then party meetings, had gone viral in social media.
Reportedly, Dhivakaran is not in good terms with T.T.V. Dinakaran, Sasikala's nephew, who had to step aside from the post of deputy general secretary.
Dhivakaran, sources say, had been honing his son Jeyanandh to step into active politics. Reportedly, Dhivakaran is the new lobbyist supporting Chief Minister Edappadi K.Palanisamy in running the government and party.
Reportedly, Sasikala's husband M.Natarajan too is by Dhivakaran's side.