Notorious criminal Aadu Antony has been sentenced to life imprisonment in a case where he murdered police constable Maniyan Pillai during a vehicle check.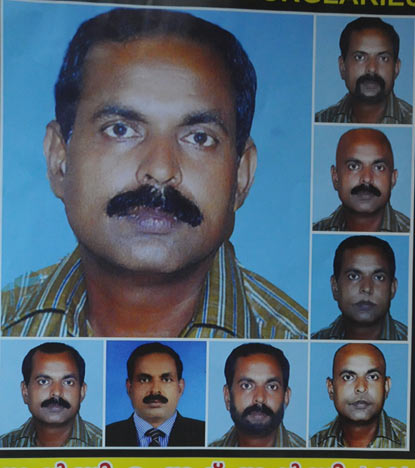 Aad Antony in different avatars
The court has also sentenced him to five years imprisonment for other offences along with a fine of Rs 4.45 lakhs. Antony was charged under five sections including murder and forgery of documents.
Antony Varghese, aka Aad Antony, 53, had a soft spot for women. He married not less than 14 times, leaving behind a chain of crushed families. On July 20, the Kollam district court proclaimed him guilty of killing a policeman in 2012.
Antony met most of his wives through matrimonial ads in newspapers. He selected women with little income, swived them, and abandoned them. Women who tried to resist his charms were won over with stolen gold and other valuables. He fathered eight sons in his dalliances with women across Kerala and Tamil Nadu.
A hardened criminal, Antony was expert at deceiving people. He lived in different names in different localities, and was once known for stealing goats, and that's how he got the name Aad, the Malayalam for goat. Later, he specialised in stealing electronic goods and home appliances and was involved in more than 200 cases of robbery, burglary, murder and, of course, fake marriages.
Bindu, a widow with two children, was one of Antony's wives. "When he met me, he told me that he was an orphan. He assured me that he would look after my children and me well," said Bindu, who hails from Gopalapuram on the outskirts of Palakkad. She never suspected Antony. "He used to go out to work at 10am, and come back the next day at the same time." Her father, Sridharan Nair, said, "I was not in favour of their relationship. I went with them to Rameshwaram and saw them constantly fight." It was here that Antony abandoned Bindu once and for all.
Shaila from Wayanad, Susan and Sreekala from Ernakulam, Viji from Kozhikode and Girija from Kollam were some of Antony's other wives. Sreekala, in fact, is the daughter of Susan from an earlier marriage. Said Sreekala to a TV channel, weeping, "My mother [Susan] and he [Antony] have cheated me all these years." Susan, it seems, was the closest to Antony and lived in a flat in Thiruvananthapuram, where Antony used to meet her once in a while. "He [Antony] used to travel across the country using fake names," Susan told the police in 2013.
On June 6, 2012, the police intercepted a van driven by Antony in the early hours of the day. While they were checking the vehicle, Antony attacked them and stabbed assistant sub-inspector Joy and constable Maniyan Pillai. Pillai later succumbed to his injuries. In October 2015, after much searching, the police arrested Antony in Palakkad. Said deputy superintendent of police M.L. Sunil Kumar, "After we tracked him near Palakkad, we sent a lady constable to stay with Antony's wife in their home. In a few days, the constable helped us to catch him." The then home minister of Kerala, Ramesh Chennithala, announced a reward of Rs 1 lakh to the 18-member police team led by Sunil Kumar. "I am happy with the court verdict," said Sunil Kumar.
Said Chennithala, to THE WEEK: "I am extremely happy to know that Antony has been convicted by the court. As home minister, in 2015, I had taken personal interest in the case and wanted the police to nab Antony fast. They did just that. I would like to congratulate all the police officers involved in the operation once again."
Antony's lawyer Muhammed Nahaz said, "We will go in appeal to the High Court. Antony has been falsely accused."
Antony grew up in Kundara, Kollam. His mother was a fisherwoman. She persuaded Antony to go to the Gulf, but he returned all too soon, much to her dismay.
Loknath Behera, director general of police, told THE WEEK: "Antony was a thoroughly professional criminal. It was a real task nabbing him. I am happy with the effort that the Kerala Police has put in. I don't think he will ever come out of jail."