Telangana Rashtra Samiti is facing its first political challenge with Prof. M. Kodandaram, who was once a comrade-in-arms of Chief Minister K. Chandrasekhar Rao making a blistering attack on the government's performance and accusing it of failing to fulfil the promises made to the people.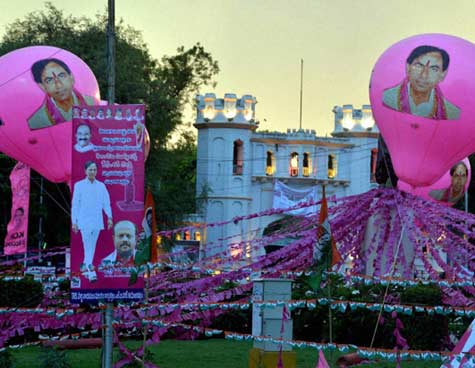 [File] Prof. M. Kodandaram accuses TRS govt of failing to fulfil the promises made to the people | PTI
Kodandaram, chairman of the Telangana Joint Action Committee (T-JAC), an umbrella organisation that played a key role in the statehood movement, was the intellectual face of the agitation.
"The fruits of statehood have not reached the poor. The condition of farmers has not changed and suicides continue unabated. Key sectors remain neglected. There are three more years left (for the next elections) and people are waiting. Telangana people know how to get their aspirations fulfilled," said Kodandaram while speaking at an event organised by Telangana Vidyavanthula Veedika (Telangana Intellectuals Forum).
He also accused the government of focusing only on the development of Hyderabad while neglecting the rural areas. This sudden attack got the attention of the Pink party top honchos who immediately launched a counter-attack, questioning the locus standi of the T-JAC after the formation of the state.
"There is no political JAC now. It was formed to fight for the statehood cause. People have given us to mandate. We are implementing various welfare schemes and working towards ushering 'Bangaru Telangana' (Golden Telangana). We are guided by our manifesto," said Energy Minister Jagdish Reddy.
It took 13 ministers to hit back at the T-JAC leader, indicating the level of impact that his criticism has made on the ruling party.
Meanwhile, the T-JAC also got its machinery working and resolved to fight for the rights of the people and act as the watchdog on their behalf. "We have decided to strengthen the JAC from the village level and then form district level committees. We will continue to fight for the people's causes. We will question the government on the non-implementation of its manifesto," Kodandaram revealed at a press conference.
Ruling out the possibility of converting the JAC into a political entity, he said, "That is not our agenda. We have no political ambitions. But if you ask us whether we are political, then I would say we are political as we highlight people's issues and fight for them."