Nun Rani Maria Vattali, who was murdered in Dewas, 25 kilometers from Indore, in 1995 has been cleared by Vatican for the canonization process to promulgate the "decree of the blessed", according to Madhya Pradesh Catholic Church.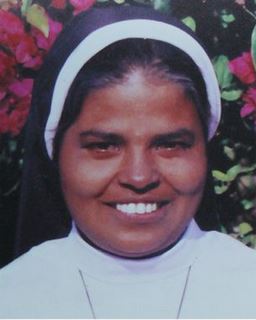 Sister Rani Maria Vattali
Father Maria Stephen, Public Relation Officer of the MP Catholic Church told THE WEEK that Rani Maria, popularly called Sister Rani, would be officially declared 'blessed' at the St Paul Auditorium in Indore on November 4.
He said Sister Rani is the first person in the history of Madhya Pradesh to attain this rare sacred status which is a previous step to beatification of sainthood.
Sister Rani Maria, a native of Pulluvazhi in Kerala, was a missionary of the Syro-Malabar Franciscan Clarist Congregation who worked in the Indore region of Madhya Pradesh. She was brutally stabbed to death on board a bus in which she was travelling to an interior village of Dewas district on February 25, 1995. She was buried in Udaingar of Dewas where she was working.
According to Father Stephen, a special representative of Pope from Vatican will come to Indore to officially declare her "blessed''. The function would be attended by thousands of people.
The murderer was a hired assassin named Samunder Singh who was sentenced to life but was released from jail a few years ago. Rani's sister, who was part of the same missionary, later pardoned Samunder Singh.
The canonization process of Sister Rani began in 2001 when the Indore Bishop George Anathil initiated the cause. According to Father Stephen, two special panels of historical and theological nature were established to examine her life and works. She was declared 'Servant of God' in 2005.
Born in 1954, Sister Rani has worked among the poor and landless agricultural workers of  Andhra Pradesh. She became member of  Franciscan Clarist Convent at Kidangoor in 1972 and later migrated to North Indian mission in Bijnor in 1975. She came to Udainagar, Dewas in 1992 where the powerful land owners class was not happy with her work among the poor.