The Sikkim government is making plans to project Kanchenjunga, the third highest peak in the world, as an eco tourism destination. It aims at attracting 12 lakh tourists a year by 2025 to witness the breathtaking views of this peak, which is 28, 169 feet high, said a communique from the state government.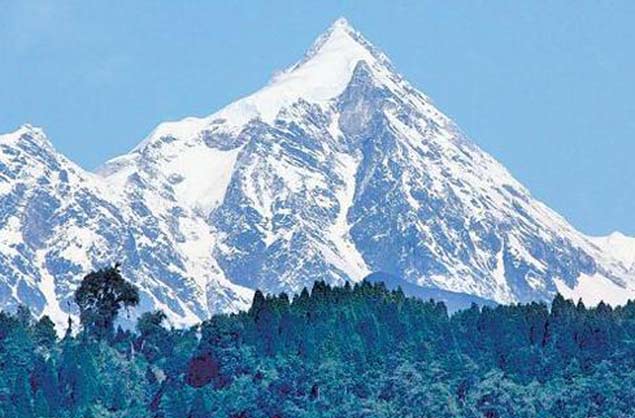 Mt Khangchendzonga | Reuters
The Khangchendzonga National Park (KNP) is the first Mixed World Heritage Site of UNESCO in India. It represents India's unique traditional links between nature and culture, an important prerequisite for getting this UNESCO status. KNP was listed by the UN agency in 2006.
Sikkim, India's least populated state, is known for its pristine Himalayan beauty as well as the numerous Buddhist monasteries dotting it. Nearly half of the state is covered by forest. It has been slowly working at promoting tourism and over the last ten years, domestic footfalls have increased from 3,47,650 in 2005 to 7,05,023 i 2015. In addition, foreign tourist arrivals went up from 16,518 to 38,479 for the same period.
Mt Khangchendzonga, as the Sikkimese call it,stands tall at 8,586 meters. It is the third highest mountain of the world and is the highest point in India. The mountain was first climbed by British mountaineers Joe Brown and George Band in 1955 but they stopped short of the summit, respecting a promise given to the Ghogyal that the peak would remain inviolate. It has been a tradition since, among mountaineers, not to scale the peak of this mountain.
With an altitudinal range of 7,366m (1,220 m to 8,586 m) within an area of only 1,784 km2, KNP is endowed with one of the highest ecosystems in the world. It has 20 peaks, which are above 6,000 metres. KNP is listed as one of the 14 "eight-thousanders" or independent mountains on Earth that are more than 8,000 metres high above sea level. Its name, "Khangchendzonga" literally means the "abode of Gods consisting of five treasure houses." The other peaks on the national park are Mt. Narsing (5,825m), Mt. Pandim (6,691m) and Mt. Kabru on the southern side, the Twins (7,350 m), Nepal peak (7,150 m) and Tent peak (7,365 m) on the northern side, and Mt. Simvo (6,811 m) and Mt. Siniolchu (6,886 m) on the eastern side.
Mt. Khangchendzonga is perhaps, the finest example of an independent mountain having its own glacial system radiating from its several summits. There are eighteen glaciers. Among them is the huge, Zemu Glacier, 22 km long, is one of the largest in Asia. Similarly, 73 glacial lakes occur within the KNP which are all above 4,000 metres.
The white snow leopard, jet black Asian black bear, red fox, blue sheep, blood pheasant, yellow throated marten, red panda, Tibetan argali (wild sheep), leopard cat and colourful high altitude pheasants are among the various species dwelling in these mountains.
The state government is promoting trekking tourism to the park. However, given that the nearest accessible boundary of KNP is Prek-Chu, which is a half hour journey by foot from Yuksam KNP Check-Post (other entry points of the park are 2 to 5 hours walk from the National Park boundary), most of the domestic tourists do not visit/trek there, preferring distant views from Gangtok. The government is working on ways to attract domestic trekkers to the park.
Tourism, however, has to be carefully regulated. Although tourism has improved the economy and developed places like Pelling, Yuksan and Rabongla, developmental projects cannot be undertaken beyond a point as they will affect the integrity of the ecosystem. So there are not even proper roads for kilometres around. Portering and packing animals for tourists, however, have become major economic activities for the locals. These people all live outside of the park. There was only one colony of 10 family units of Tibetan refugees at Tshoka, which were later relocated.