Family of Rohith Vemula, a Dalit scholar who committed suicide at Hyderabad Central University in January, embraced Buddhism on Thursday.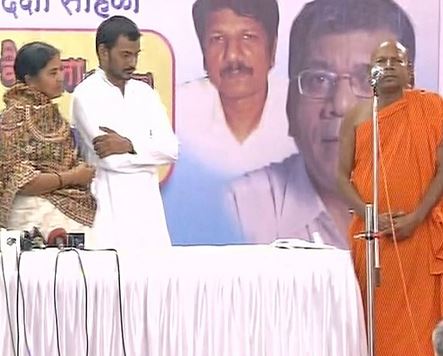 Rohith Vemula's mother and brother receiving deeksha from a Buddhist monk | ANI_News
Rohith's mother Radhika and brother Raja converted to Buddhism in a ceremony held at Ambedkar Bhavan in Dadar in Mumbai. They were given deeksha by Buddhist monks.
Thursday is the 25th birth anniversary of Babasaheb Ambedkar, the Dalit icon and founder of the Indian Constitution.
Raja had earlier said that though he had no ill feeling toward Hindus, his conscience didn't allow him to continue in that religion. "It is because of the Hindu caste system that my brother was harassed, humiliated and forced to take his own life," he was quoted as saying by a national daily.
In a statement issued by him on Thursday and was published in the Indian Express, Raja said "From today, my mother and I will be truly free. Free from shame. Free from daily humiliation. Free from the guilt of praying to the same God in whose name our people have been tortured for centuries."
He said From today, they would always remember the birthday of Babasaheb as the day they got their "azaadi from the cains of the caste system."
Taking a dig at the prime minister, Raja asked why Narendra Modi doesn't say a single word about the HCU Vice Chancellor Appa Rao.
Rohith committed suicide by hanging himself on January 17, days after he was suspended along with four other students for allegedly assaulting an ABVP student.
The university has been witnessing intense protests ever since Rohith's suicide with students demanding the removal of Appa Rao holding him responsible for Rohith's death.