Former MP Ramya was as guilty as Prime Minister Narendra Modi and BJP patriarch L.K. Advani, said Karnataka Chief Minister Siddaramaiah, adding he needed no lessons on patriotism from the BJP.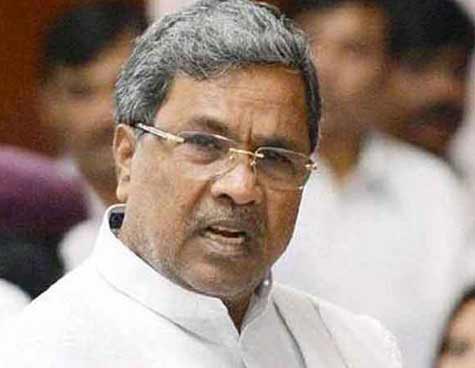 Karnataka Chief Minister Siddaramaiah | PTI
Siddaramaiah, who was in Hubli, on Monday, said, "Ramya has done nothing wrong. She only said people of Pakistan were hospitable to her when she visited the country. People questioning Ramya over her Pakistan comments should answer why Prime Minister Narendra Modi visited Pakistan Prime Minister Nawaz Sharief's house. Are they relatives? In fact, Advani had called Jinnah as secular. BJP is only politicising the issue," said Siddaramaiah.
On the ongoing controversy involving Amnesty International India, the CM said, "We have no evidence against AI and there are no documents to prove anti-national slogan were raised during the event. The BJP and the RSS are fuelling the ABVP protests," said Siddaramaiah.
The Kuruba strongman Siddaramaiah, who is wary of BJP's leader of the Opposition K.S. Eshwarappa floating Sangolli Rayanna Brigade to consolidate 'Hinda' votes (causing a dent to Siddaramaiah's Ahinda votebase), dared Eshwarappa to declare himself as the next chief minister. "BJP has never been in favour of social justice. Both B.S. Yeddyurappa and Eshwarappa have never spoken of social justice or backward classes. The new brigade is only an election gimmick. They are only using Rayanna's name for political gains," said the chief minister.
"What was Eshwarappa doing when there were anti-Mandal commission protests? Why did he keep quiet when Rama Jois approached the court, opposing the amendment to the reservation bill. Today, he has floated Hinda, after dropping minorities from the Ahinda coalition," he mocked.