It has been nearly two weeks since Tamil Nadu Chief Minister J. Jayalalithaa was admitted to Apollo hospital in Chennai. While a motley crowd of party cadres throng the narrow lane leading to the  hospital on the Greams road in the city to get a glimpse of their 68-year-old leader, special prayers and poojas are conducted across the state for her speedy recovery. AIADMK ministers, party seniors and cadres are queuing up outside temples in a showy manner to seek the divine intervention for their beloved Amma.
It all began on September 30—an Amavasya or no moon day— when a special pooja was performed in front of the gates of Apollo with pumpkins and burning camphor. Amavasya is considered auspicious according to Tamil calendar. 
"Amma will come back to life. Our prayers will be answered," says Radha Krishnakumar, a die-hard Jayalalithaa loyalist from Thiruvallur near Chennai. Radha ritualistically reaches the hospital gate every day as dawn breaks and wait patiently till late in the evening to hear what is happening to her Amma. And from time to time, she makes it a point to look above at the sky and put her hands together to pray for her leader. Radha has also vowed to make a pilgrimage, along with her two sons and daughter, to the famous Murugan temple in Palani in Dindigul district, tonsure her head and pull the golden chariot there. "She (Jayalalithaa) had given life to me. I am moving around with pride in my village in Thiruvallur only because of Amma. Prayer is what I can do for my Amma today," says Radha.
Radha is just one among the several thousands of her loyalists offering prayers by performing various rituals—breaking coconuts, rolling on the floor in the temple prakaras (enclosures), tonsuring their head, getting their skin pierced with hooks and eating rice from the floor. On Tuesday, AIADMK's women leaders including former minister S.Valarmathi, party spokeperson C.R. Saraswathi ate Mann Soru (eating rice on the floor) as part of a ritual performed in a temple in south Chennai.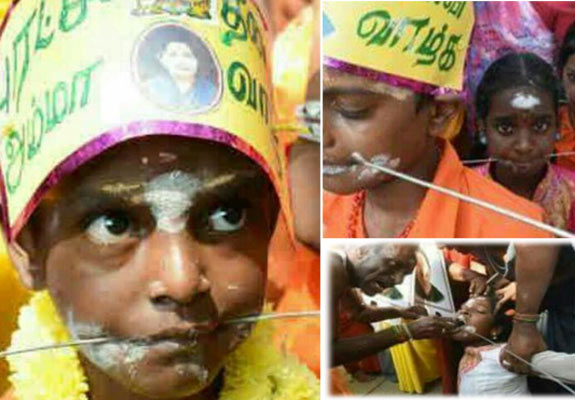 Shockingly, many children were seen with their cheeks pierced with a sharp object and holding head gears saying "Amma get well soon". The ritual, popularly known as alagukoothuthal in Tamil, was administered on children aged between five and ten in a temple in Jayalalithaa's RK Nagar constituency. 
On Wednesday, a special Namaz was performed by a group of AIADMK cadres in Chennai. The cadres from Annanagar gathered on the street and knelt down calling "Allah" to save Amma. 
The Tamil Nadu Music and Fine Arts University is all set to organise a mass prayer of students and teachers on October 8 for the speedy recovery of the chief minister. The state-run varsity said in a press statement that devotional songs and music would be played in the mass prayer to be held in its premises for the speedy recovery of the "founder and chancellor of the university, Chief Minister Puratchi Thalaivi Amma (Jayalalithaa)".
Unlike the DMK, the AIADMK is a party of believers and has always sought divine intervention offering prayers and poojas. Be it in 2004, when the TANSI deal case posed a threat for Jayalalithaa's reign or in 2014, when Jayalalithaa had to step down as chief minister after a trial court convicted her in the disproportionate assets case, the party cadres have took to the temples to profoundly seek celestial intervention.