Nothing brings Indians on Twitter together better than a foreigner's negative comments about India. On August 24, British journalist and TV celebrity Piers Morgan irked Indian Twitterati when he sneered at how "embarrassing" it was that India celebrated "two losing medals" at the Olympics.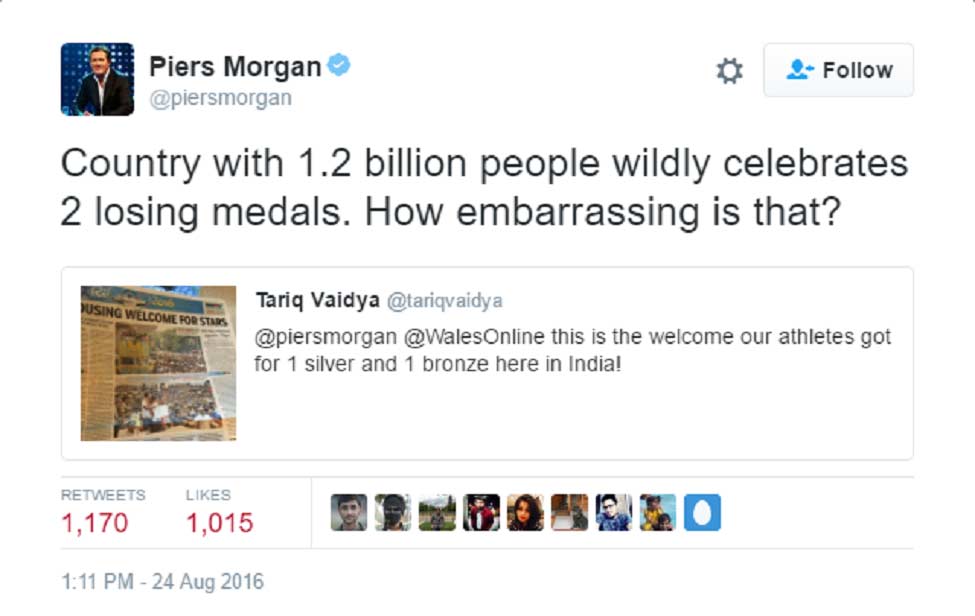 Until then, most Indians weren't aware of who Piers Morgan was. Only football fans knew him as the sharp-tongued Arsenal 'fan', infamous for his attempts to stir up controversy at every corner and rile up Twitterati. This time, though, he chose to rattle the Indian beehive on Twitter. The backlash that followed lasted for two days.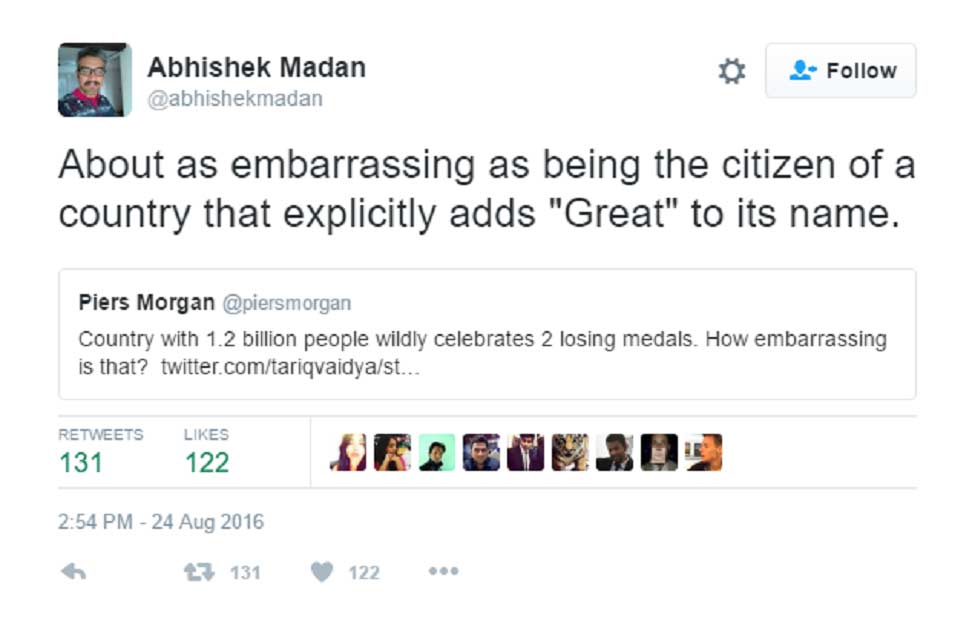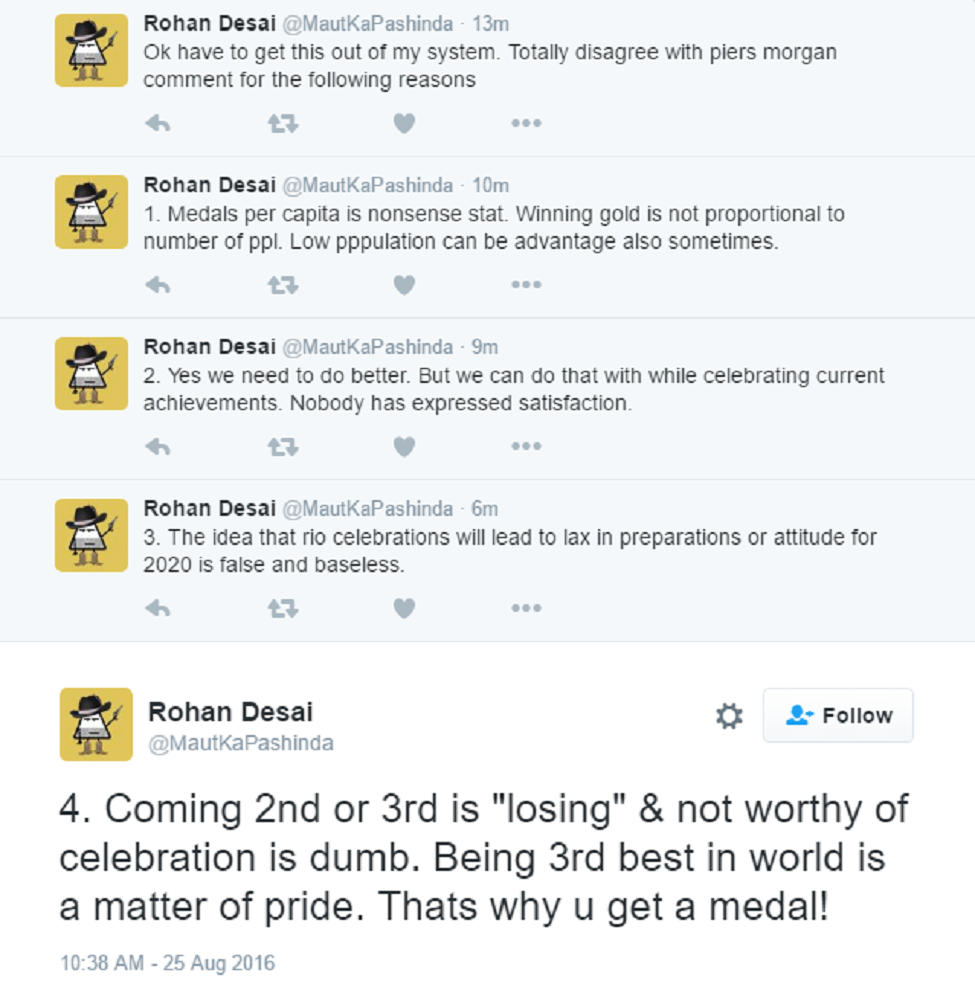 Virender Sehwag's tweet more than 19,000 likes when he said, "We cherish every small happiness',But Eng who invented Cricket,&yet2win a WC,still continue to playWC.Embarrassing?" But Piers Morgan, who is a pro at dealing with criticism on Twitter, hit back and held strong against the torrential outpouring of hate.
Shane Warne stepped in and asked, "Why are you having a go at my Indian friends buddy?"
Harsha Bhogle felt he was unnecessarily trending, saying, "By outraging Piers Morgan, we've given him exactly what he wanted."
While attempting to give his two pence to the debate, Chetan Bhagat misspelled Piers' name as 'Peirs'. The ever-sarcastic Morgan's response "Noted, Chatan." was lost on the Indian author, leading to a seemingly-friendly banter.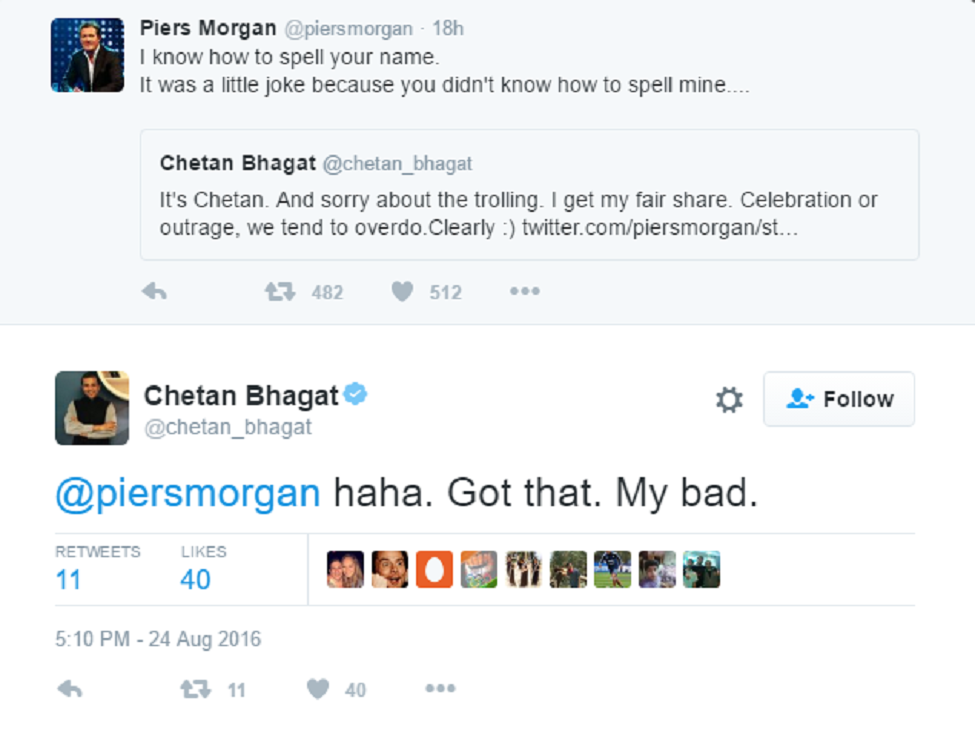 Chatan is a wonderful word coined by Piers Morgan: it describes an Indian who sucks up to power via Twitter. E.g., Suhel Seth is a chatan

— IndiaExplained (@IndiaExplained) August 25, 2016
brb writing Peirs/Chatan erotic fanfic

— haraam bae sethi (@sethiankit) August 24, 2016
Twitter trolls lost no time in mocking their 'budding' relationship.
Comedians had poignant observations, too, for the benefit of those who were trolling him.
People getting furious with Piers Morgan.
Hilarious.
Guys, this is what he does.
He's a professional troll.
He's KRK with a British accent.

— Sorabh Pant (@hankypanty) August 24, 2016
.@piersmorgan A country invented a sport but couldn't win a single world cup while its colonies have won it, how embarrassing is THAT 😂

— Gabbbar (@GabbbarSingh) August 24, 2016
Morgan didn't stop with just one tweet, though. Besides responding to many tweeters, he also made statements that tried to justify his stance. He questioned Sachin Tendulkar's stellar performance and why the same couldn't be expected from Olympians, perhaps without realising that cricket is a more popular and well-funded sport than most Olympic sports.
His comments might have hurt Indian sentiments, but a part of the Indian Twitterati wasn't afraid to call a spade a spade. Out of India's 100-plus contingent, only two medals were secured. Some thought that it was time Indians got over the drama and thought about the truth.
Troll him all you want but @piersmorgan is right. The excessive celebration doesn't quite match the result.

— Karan Talwar (@BollywoodGandu) August 24, 2016
Among the trolls and the patriots, there were a few who looked beyond Morgan's comments and eyed India's potential for the next Olympics.
You know who ISN'T reacting to @piersmorgan's painful but ultimately true criticism? 2020's Olympic hopefuls from India.

— Sonali Rahul Khanna (@KolhapuriChapal) August 24, 2016