In what will be a first-of-its-kind protest to highlight the problems faced by the truncated state of Andhra Pradesh, Telugu women from across the world have been asked to send specially-designed e-Rakhis containing a set of demands of the region to Prime Minister Narendra Modi.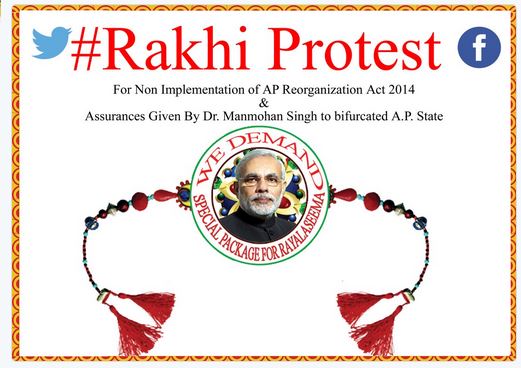 Image courtesy: Twitter/konathalaramak1
These rakhis will contain slogans like "We demand special status", "We demand special package" and "Special status is our right", and will flood the social media accounts of the prime minister with a hashtag #Rakhiprotest.
The protest Rakhis will be sent to Modi's Twitter handle @narendramodi, @PMOIndia and his Facebook page to make a strong point about the pending issues of the state.
The idea is the brainchild of former MP from coastal Andhra and former Congress minister Konatahala Ramakrishna. He has designed a set of what he calls 'Protest Rakhis' and urged the Telugu women from across the world to download them from his Twitter handle, @konathalaramak1 or from his Facebook account. He has also encouraged them to make their own Protest Rakhis.
Ramakrishna was a close confidante of former chief minister late Y.S. Rajasekhar Reddy. Using the brother-sister sentiment, the former minister is calling for the prime minister to extend his support to the residuary Andhra Pradesh.
He feels that the special status will help the residuary state to grow as it has lost enormously due to bifurcation.
He said even the Polavaram multi-purpose irrigation project, despite being declared a national project, was facing severe neglect.
The special status to Andhra Pradesh has become an emotive issue and almost all political parties have taken it up with the central government. The Centre, however, has managed to smile through all the demands and has still not made a commitment.
Andhra was left with a Rs 16,000 crore deficit budget and is yet to build a new capital city. Though the special status is not part of the AP Bifurcation Act of 2014, passed by the parliament when UPA was in power, it was promised by the then Prime Minister Manmohan Singh on the floor of the Parliament in February 2014 to put the state's finances on a "firmer footing".
Meanwhile, the ruling TDP, which is an ally of the NDA, is also facing political embarrassment for having failed to convince the BJP central leadership about the need to bail out the cash-strapped state.