The Jawahar Nagar Residents Welfare Association, a residential welfare association from Kochi, was felicitated by Urban Development Minister Venkaiah Naidu for its efforts at ensuring almost zero garbage creation.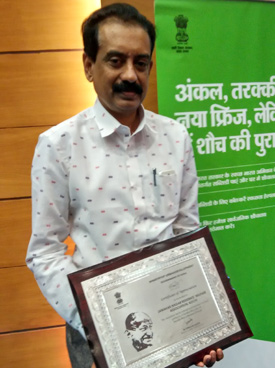 Ajit Mohammed
Ajit Mohammed, a representative of the association, told THE WEEK that the society had started using Pot Digesters. Each house uses pretty looking terracotta pots to compost its wet garbage.
The compost is used to enrich the soil in the gardens of the society. The dry garbage is compacted and then given away for road construction. The association has also made a tie up with a Hyderabad based firm to collect its e-waste.
"Our contribution to the municipal bins is almost negligible,'' Mohammad says. The initiative was launched last year, but all the households are not yet covered by it. "We are working at getting all the houses under the scheme, and also planning digestors for public areas,'' he said.
Two other housing societies were also felicitated. These include the Rajhans Zion Housing Society of Surat, which composts 18 kg of waste daily and Indore DLF Gardens, which composts 25 kg daily.
Naidu noted that the Swachh Bharat mission would succeed only if it became a mass movement and not a sarkari programme. The efforts of the public, therefore, were extremely important, he said.