The roaring bulldozers have been razing down houses of the common man citing encroachment and illegalities. But in a major embarrassment to the Siddaramaiah government, Karnataka chief secretary Arvind Jadhav is now facing serious allegations of land grabbing.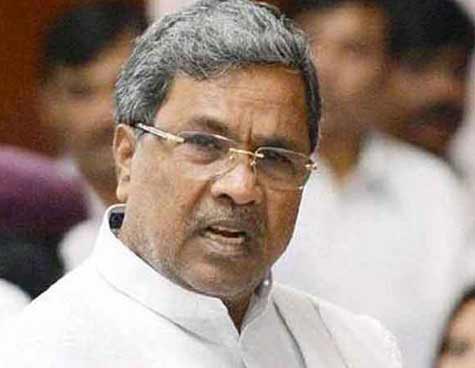 Chief Minister Siddaramaiah has ordered a detailed inquiry into the allegations | PTI
A visibly upset Chief Minister Siddaramaiah ordered a detailed inquiry by revenue secretary Ramana Reddy, while Revenue Minister Kagodu Thimmappa said he was yet to get a report from officials.
A 1978-batch IAS officer, Jadhav became the chief secretary in December 2015 and attained superannuation in June 2016. However, his tenure was extended by three months.
On Wednesday, the anti-corruption bureau officials raided the office of the Bangalore Urban Deputy Commissioner V. Shankar, following a complaint lodged by RTI activist Bhaskaran.
Bhaskaran accused Jadhav, Shankar, assistant commissioner and tahsildar of Anekal of gross manipulation of government records to allot eight acres and 30 guntas of government land in Anekal taluk to Jadhav's mother Tarabai Jadhav.
In his letter to the ACB, the complainant has stated that Tarabai was illegally granted 8.3 acres out of the 73 acres of government land (survey no.29) at Ramanayakanahalli in Anekal. The same was sold to another buyer in violation of the Land Revenue Act of 1964 that bars sale of government land.
Jadhav, in a written statement to the media, said that the land in question was purchased by his mother through registered sale deeds in 2002, out of the proceeds of the sale of agriculture lands (Sy.Nos.77, 78, 80, 81) of Hegganahalli of Devanahalli taluk.
"The Anekal land owners were granted the lands in 1977-78. So, when my mother bought it, it was past the 15-year period of non-alienation clause. The Revenue authorities had endorsed (in July 2002) that the land belongs to general category," said Jadhav, adding that he was on central deputation when the transaction took place.
"I was not in Bengaluru in 2002. My mother is free to buy any land with her money. Subsequent to the purchase, we sought completion of fixing survey boundaries as per revenue laws. The exercise of seeking completion of phodi division & durasti (sunrey) to obtain a new RTC is the usual practice. The streamlining of the survey in Revenue records has taken more than 14 years in the courts. Any decision of the Revenue & Survey department is subject to judicial review and the aggrieved is free to seek legal course," added Jadhav.
Meanwhile the opposition parties have demanded that the top executive should quit to pave way for a fair probe. "As the senior most bureaucrat is accused of land grabbing, we demand a CBI probe and also urge the CM to remove the bureaucrat. After all, it shows the direction in which Siddaramaiah's government is heading," said Leader of the Opposition Jagadish Shettar.
JD(S) state president H.D. Kumaraswamy urged the government to conduct a massive investigation to unearth corruption committed by bureaucrats. "I believe there are many corrupt officers, who misuse government funds, buy huge properties in their home town and also buy land in Bengaluru illegally. A probe will expose all."