Tamil Nadu Chief Minister J. Jayalalithaa, who was admitted to the Apollo hospital in Chennai on September 22, was responding well to the treatment, said the hospital in its latest press statement. The statement issued on Monday maintained that the chief minister's condition was improving.
"The treatment plan including appropriate antibiotics, respiratory support and other allied clinical measures are presently being continued to treat the infection," said the bulletin, adding that the chief minister had been advised a few more days stay in the hospital.
It said that a team of doctors was collectively monitoring her treatment.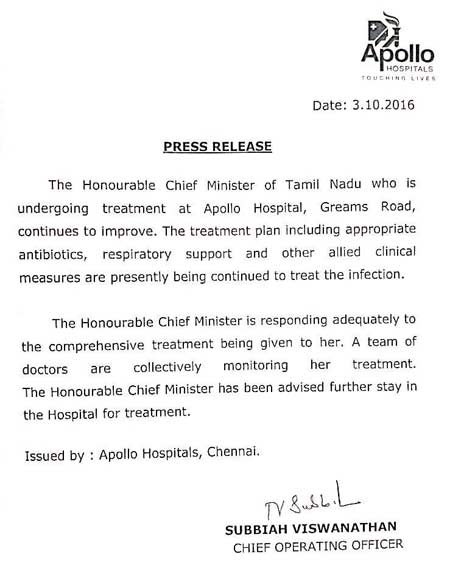 The 68-year-old chief minister was hospitalised after she complained of "fever and dehydration."
The hospital had issued a statement on Sunday evening in which it had said for the first time since her hospitalisation that the chief minister was being treated for "infection". The doctors had obtained expert opinion from Dr Richard Beale, an international specialist from London, who was flown to Chennai on September 30.
Beale is a Consultant Intensivist at the London Bridge Hospital.
Meanwhile, a Public Interest Litigation was filed in the Madras High Court on Monday seeking a detailed report from the government on the health condition of Jayalalithaa and releasing of photographs of the meeting she is said to have had with her cabinet colleagues and officials in the hospital where she is admitted.
The petitioner "Traffic" Ramaswamy, a social activist, submitted that the people of Tamil Nadu were eager to know about the health condition of Jayalalithaa.