The Supreme Court on Monday questioned the ban on entry of women in Sabarimala temple in Kerala and asked whether any tradition can override constitutional provisions.
The top court asked the temple trust what right they have to forbid women from worshiping deity at the temple premises.
A bench comprises Justice Dipak Misra, Justice Pinaki Chandra Ghose and Justice N.V. Ramana observed that the matter should be argued according to the constitution and not tradition. Even if majoritarian view of 30 lakh ppl was on one side, court would examine only on constitutional validity of issue, the apex court observed.
Can a woman be denied permission to climb Mount Everest, the court asked. Next hearing in the case is slated for Wednesday.
Women aged between 10 and 50 are not allowed to enter the famous forest temple situated in Pathanamthitta district of south Kerala. As per the tradition, the journey to Sabarimala is a 41-day long pilgrimage and religious experts argue that women cannot remain "pure" as she will undergo the menstrual period before completing the journey.
The top court, while hearing the case earlier, had wondered how the man-made customs can prescribe such prohibition when "the God does not discriminate between men and women". Observing that there are differences between religion and temple, the court had also asked if there is any evidence to prove that women were not allowed in the temple 1,500 years ago.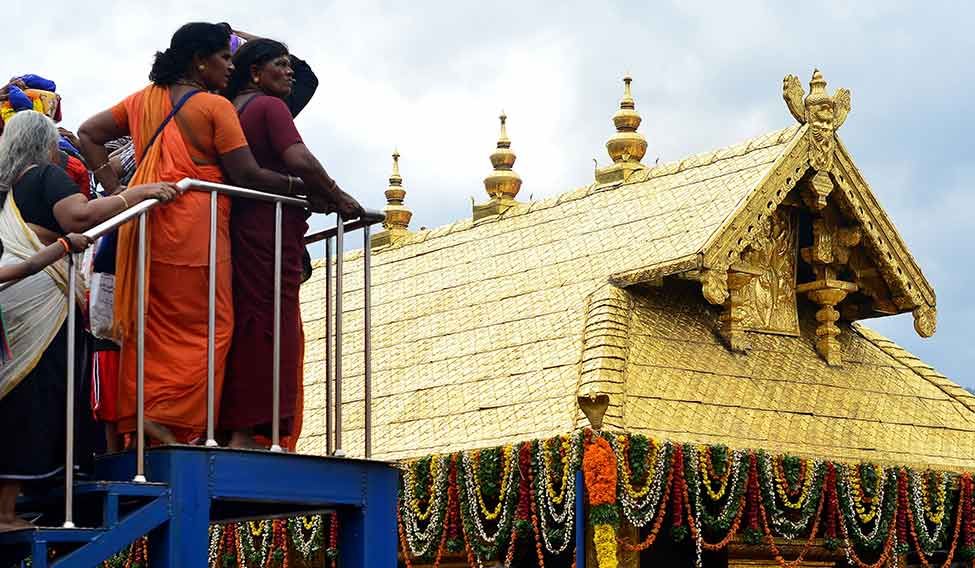 Women aged between 10 and 50 are not allowed to enter the famous forest temple
The Kerala government, in its latest affidavit, has said the prohibition of women is a matter of religion and it is duty-bound to "protect the right to practice the religion of these devotees". But the previous LDF government had supported a PIL seeking women's entry in the hill shrine.
The Travancore Devaswom Board, which administers the hill shrine, has been opposing the women entry saying the deity Lord Ayyappa is considered to be naishtika brahmachari (perennial celibate).
In a historic move, the Shani Shingnapur Temple Trust had on Friday declared that women would be allowed to enter the inner sanctum. For over four centuries, women have been barred from stepping onto the high platform on which stands a black stone—symbolising Lord Shanidev, the personification of planet Saturn.
The Trust's decision came days after Bombay High Court ruled that entering places of worship is the fundamental rights of women and that the government is duty-bound to protect their right.
Bhumata Ranragini Brigade president Trupti Desai, who spearheaded the campaign for women's right to worship, and several women activists trooped to the temple after Trust decision.