The Bihar government website has described former Prime Minister Indira Gandhi as "autocratic" ruler, saying the state's iconic freedom fighter and political leader Jay Prakash aka JP suffered a worse treatment under her regime.
"JP's substantial contribution to modern Indian history continued up until his death in 1979. It was he who steadfastly and staunchly opposed the autocratic rule of Indira Gandhi and her younger son, Sanjay Gandhi," reads a paragraph on Bihar's modern history on the website.
"Fearing people's reaction to his opposition, Indira Gandhi had him arrested on the eve of declaring National Emergency beginning June 26, 1975. He was put in the Tihar Jail, located near Delhi, where notorious criminals are jailed. Thus, in Free India, this septuagenarian, who had fought for India's freedom alongside Indira Gandhi's father, Jawahar Lal Nehru, received a treatment that was worse than what the British had meted out to Gandhiji in Champaran in 1917, for his speaking out against oppression," it reads.
The Bihar government has reportedly expressed ignorance over the details in reference to Indira on its website. However, the news has, indeed, irked the leaders of the state Congress unit, who are likely to raise the issue with Chief Minister Nitish Kumar.
The Congress is a key ally in the Bihar coalition government. Last year, the Congress, JD(U) and RJD, brushing aside their political differences, came together to form the Grand Alliance to defeat the BJP in Bihar elections.
"The movement started by JP, however, brought the Emergency to an end, led to the massive defeat of Indira Gandhi and her Congress Party at the polls, and, to the installation of a non-Congress government -The Janata Party - at Delhi, for the first time. With the blessings of JP, Morarji Desai became the fourth Prime Minister of India," says the webiste, which was launched on February 11, 2014.
"JP remained the Conscience of the Janata Party and of post-Gandhi - post-Nehru India. He gave a call to all Indians to work ceaselessly towards eliminating dictatorship in favour of democracy and bringing about freedom from slavery. Sadly, soon after attaining power, bickering began among the leaders of the Janata Party which led to the resignation of Shri Desai as the Prime Minister. JP continued with his call for "total revolution" (sampporna kranti), but he succumbed to kidney failure at a hospital in Bombay in 1979," it adds.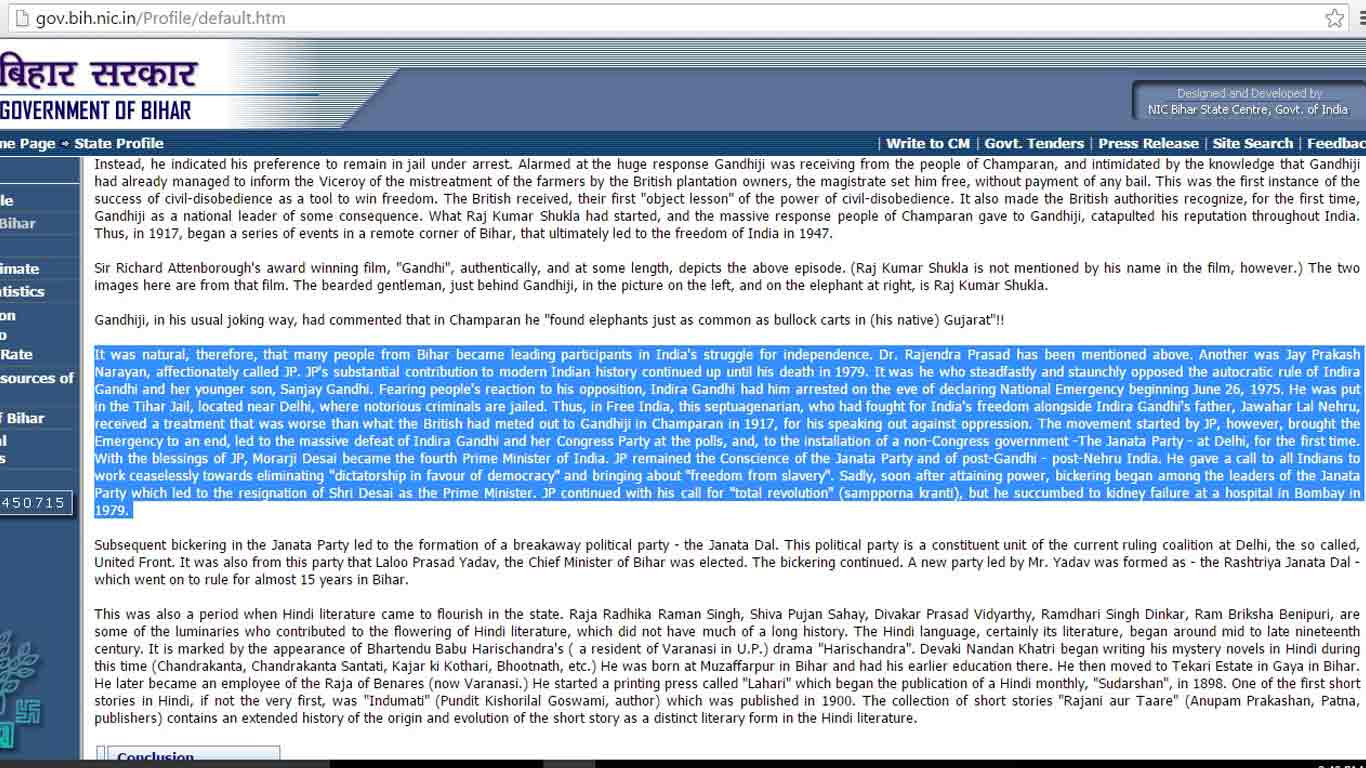 The highlighted paragraph talks about Indira Gandhi's rule