The Gujarat BJP's attempt to put up a massive show of strength in Surat at a programme on Thursday proved to be a damb squib with members of Patidar community disturbing the function and raising slogans in support of their leader Hardik Patel.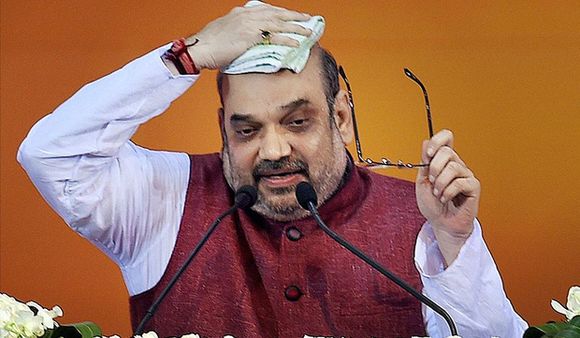 BJP President Amit Shah
Though the function to honour Patel ministers in the Vijay Rupani-led government was organised under the aegis of Patidar Sanman Samiti, comprising some diamond merchants close to both the BJP and Patels, it is said that it had saffron party's full backing.
A section of Patidars managed to disturb the proceedings much before the BJP leaders started speaking. The ruckus began when one of the organisers Mahesh Savani started speaking. Hardik Patel's supporters went on a rampage damaging furniture despite the presence of police and hundreds of volunteers.
BJP national president Amit Shah, chief minister Vijay Rupani and state BJP president Jitubhai Vaghani were present at the function.
The impact of the protests was so much that Shah had to wind up his speech in just four minutes. In his brief speech, Shah acknowledged Patel community's support to the party and also said that the progress of the Patidars was linked to the progress of the state. By the time Shah began to speak, there were hardly two thousand people left at the venue.
Incidents of stone pelting were also reported from near the venue. According to reports, over 300 protesters were detained.
The organisers had claimed that they were expecting around one lakh people but sources said that the gathering was only around 20,000.
Lakhs of rupees were spent in making the dome water proof. A source said that the expenses to organise the function would not be less than a couple of crores.
By organising the programme, the BJP wanted to give a stern message to Hardik and his supporters that the Patidar community was still with it. It was also an opportunity for them to take the benefit of the rift among the Patidar leaders.
For over one and a half years, the Patidars in the state have been demanding reservation under OBC category. The government has categorically denied the reservation demand saying that it is not possible to raise the quota beyond 49 per cent as per the Supreme Court directive.
Hardik, who is facing sedition charges, is out on bail and is currently in Udaipur as per the directives of the court.
As a precautionary measure, the Surat police had detained Patidar Anamat Andolan Samiti leader Varun Patel and several others on Wednesday.
In clear indications of possible disruptions during the event, posters linking Amit Shah with General Dyer had come up in different parts of Surat ahead of the function.