Former Prime Minister H.D. Deve Gowda launched an indefinite hunger strike in protest against the latest Supreme Court order directing Karnataka to release 6,000 cusec of water daily for six days starting October 1. The 83-year-old JD(S) patriarch sat on the dharna before the Mahatma Gandhi statue in the Vidhana Soudha complex, urging the prime minister to immediately intervene and also opposing the constitution of the Cauvery Management Board.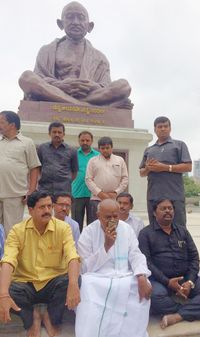 Former PM Deve Gowda sits on a hunger strike at Vidhana Soudha in Bengaluru on Saturday
"Karnataka has not been a habitual offender as we have always complied with the SC order. But today, the situation is grim and I urge the PM to intervene. We don't intend to inconvenience the people of Tamil Nadu. But our people have no drinking water. I urge the Centre to send a expert committee to study the situation," said Gowda.
Meanwhile, the Union Water Resources Ministry has asked the three Cauvery basin states of Karnataka, Kerala, Tamil Nadu and the Union Territory of Puducherry to nominate their representatives to be appointed to the Cauvery Water Management Board as directed by the Supreme Court, which has ordered the Centre to constitute the Board by October 4.
Chief Minister Siddaramaiah has convened an all-party meeting today, followed by a cabinet meeting, where the state will decide the next course of action.